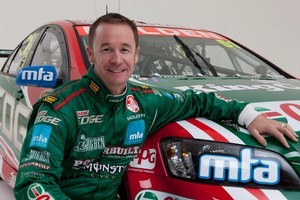 It's been five years since a New Zealander held the Peter Brock Trophy aloft as the winner of the annual Bathurst 1000 endurance race.
It's also been another six years on top of that since a Kiwi, other than Greg Murphy, hung a winner's medal around his neck - Steven Richards back in 1999, partnered by none other than Murphy.
Many have tried and none more so than Jason Richards, who has three second-place trophies and who feels his time has come. Especially after the scintillating third place he and co-driver Andrew Jones achieved a couple of weeks ago at Phillip Island.
"I head to Bathurst wanting nothing more than a bit of luck. Everything else is organised," said Richards.
"I was a bit disappointed to stand on the second-place podium last year. I've been there, done that, and it's all about winning this year. I have no interest about coming second this year."
No matter how hard Richards will be pushing to win his elusive first Bathurst trophy, all eyes will be on Murphy because that man comes alive at the Mt Panorama track. There's something about the place that brings the best out of him and his car, and he needs a win to salvage a bad season.
"The back [recent minor surgery] is all brand new and no big deal heading to Bathurst," said Murphy. "I'm a bit cynical going there this year as we've had zero form the last couple of years.
"This year is even worse as we've had a dismal season so far. We've had lots of problems with the car, and still do. The car hasn't been right once this year."
Murphy may not be in the best of spirits on the drive to the Mt Panorama track but every driver admits they just don't know what will happen there on Sunday.
"Things have sort of come right for us at Bathurst but that doesn't mean it's going to happen every year. But we're hopeful we can find something up there.
"We've probably been written off by many of the teams because we've had such a terrible season. But I've been around long enough to know that that may not be the case.
"I know what you're saying [drivers can go there with form and come unstuck and the underdog can rise to the top] but the difference is that I've never had such an uncompetitive season. It's been pathetic.
"I'm not a religious man but I'd pray if that would help."
But talent and class will always count and Murphy has class to spare in the big V8s. Should Murphy's mantle, as the best Kiwi at Bathurst, start to slip there's a young driver ready to step into his rather big and daunting shoes.
Young Shane van Gisbergen is champing at the bit to get back to the mountain after his disappointment of last year.
"It's just an awesome place to be at and to remember the last couple of years," said van Gisbergen. "I can't wait to get going.
"We had a really strong car here last year but things just didn't go our way in the race. Hopefully the car's better this year and we can be there with 30 laps to go on Sunday ... We were leading on lap 100 last year and that was a pretty cool moment for me."
Former NZV8 champion John McIntyre partners van Gisbergen this year. As the two of them like the same car setup, it will help immeasurably during driver changes.
Of the other Kiwis in the field, the pairing of Fabian Coulthard and the experienced Craig Baird could be the dark horse. Baird has experienced joy and frustration around the mountain but has the ability to step up when needed.
Coulthard's year has been poor, mainly because of a car that has not performed.
Steven Richards has had a year that puts his drive at FPR into question but is a vastly experienced endurance driver and a past winner at Bathurst.
Matt Halliday is co-driving with Jason Bright, who is mid-table in the series, but a lot of mishaps will have to happen to the rest of the field if they are to feature. The same could be said of fellow Kiwi Ant Pedersen, who is sharing duties with Damian Assaillit.