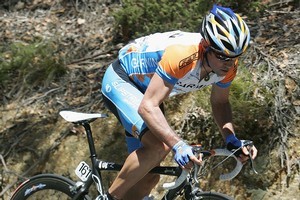 New Zealand were powerless to figure in a dramatic conclusion to cycling's world championship men's road race in Geelong yesterday.
Julian Dean was the only black-clad rider to complete a brutal 262.7km test of endurance won by his former pro team colleague, Thor Hushovd. The Norwegian pulled clear during the last 20m on the uphill home straight. Matti Breschel (Denmark) claimed the sliver and Australian Allan Davis the bronze.
Dean persevered to the bitter end, crossing 77th among the stragglers - after the medal presentation and 13 minutes 53 seconds down on Hushovd, whom he raced with for Credit Agricole.
Dean's race was effectively run when he missed joining a 32-strong chase group who made their move in the fifth of 11 15.9km loops of a street circuit.
Greg Henderson was the first of the New Zealand trio to falter, with more than six laps to travel, while Commonwealth Games-bound Hayden Roulston dismounted with four loops to go.
The championship's premier event had risked descending into farce before the peloton reached Geelong from central Melbourne after a five-man breakaway were close to gaining a lap on the remainder of the original 178-strong field. Roulston said his failure to finish was not necessarily a bad sign heading into New Delhi.
"When your time's up, it's up. There's no point continuing. It's a very hard race and very selective."
He said a shorter distance and dead-flat layout would be beneficial in the Indian capital. However, he admitted a New Zealand team weakened by Henderson's refusal to travel to New Delhi would be up against it.
Roulston, Jack Bauer and Clinton Avery are confirmed in the six-man team; members of the track squad will make up the numbers.
- NZPA