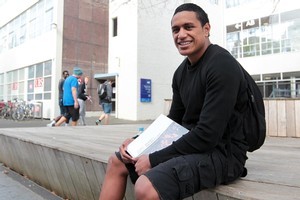 Soon after Glen Fisiiahi got off the plane to Sydney, he emailed off his university assignment.
The 19-year-old didn't want to miss the deadline, even though he had a preliminary final against the Bulldogs to play the following evening. This week, he had a presentation to give on event management. He could well have talked about how he's managing to balance full-time study with preparing to play the biggest game of his rugby league career.
Today, Fisiiahi and the rest of the Junior Warriors take on South Sydney in the Toyota Cup grand final; curtain-raiser to the main event between the Roosters and Dragons.
The NRL players attend a glitzy, black-tie grand final breakfast and front the glare of huge public interest. The Junior Warriors are still studying, hammering nails on building sites, working as personal trainers and operating as social workers.
Toyota Cup players must study or work around playing football. Consequently, rules dictate they can't train between 8am and 5pm. They must work or study four days a week. The NRL is looking at increasing this to five from next season.
High in their mind is the fact just 10 per cent of NYC players graduate to the NRL and, even then, the average length of career is only 80 games (about four seasons). "They all dream of playing NRL but the reality is most won't - so the NRL feels it's really important that players have something else," says Jerry Seuseu, Warriors education and welfare officer and Junior Warriors manager. "It's a case of no work, no study, no play.
"I'm quite jealous. When I was a player, we didn't have anything like this. I was just lucky I did some study along the way that helped me get work after football." Seuseu played 132 games for the Warriors, including the 2002 grand final, as well as 11 tests for the Kiwis. It's something Fisiiahi hopes he will do too.
The young fullback has already secured a one-year deal with the Warriors for next season and there's an expectation he will quickly make it to first grade. Some think he will push Lance Hohaia and Kevin Locke for the No 1 jersey next season.
Fisiiahi is a player of blinding pace and his 19 tries (3rd in Toyota Cup), 26 line breaks (1st) and 1093 kick-return metres (2nd) mark him out as a player of exciting potential. It's not been easy, however, juggling his commitments.
"It's getting pretty heavy now," he admits, as students mill around him at AUT where he is studying for a Diploma in Sport and Recreation. "The first semester was all right because I was handling school and footy but at times like these, with it being grand final week, I'm finding it pretty hard to balance both. I like studying because it takes my mind off footy. I just didn't realise it would be this hard."
His teachers are sympathetic but he hasn't yet asked for an extension for an assignment and hopes he won't have to. He doesn't want to feel like he's falling behind or getting special treatment.
A typical day is significantly more demanding than NRL players. Fisiiahi attends lectures six hours a day (sometimes from 8am) before heading across town to Mt Smart Stadium for training at 5pm. He might crawl away from there at 8pm before heading home to get in another hour's study before tiredness takes hold.
"It's a little bit like survival of the fittest," Seuseu says. "The guys who can handle it are usually the ones who make it. If they can handle the grind, then they have a really good work ethic for anything. We recognise there are huge demands on them and it's my role to help them week by week."
A handful of players have been given some time off work this week to prepare for today's game but most are carrying on as normal. The team didn't even fly out of Auckland until yesterday to try to make it feel as typical as possible.
Souths, coached by former Kiwi David Kidwell, will start as slight favourites, despite the fact the Warriors have beaten them twice this season. The Bunnies topped the table over the regular season, one point ahead of the Warriors, and romped to a 64-18 win over Canberra in the other preliminary final last weekend.
While this shows they are in good form, the Warriors will take heart from the fact they have ground out two close victories in their past two games. They overcame the Bulldogs 23-16 last weekend, when Fisiiahi scored a late winner, and beat Manly 25-22 in the first weekend of the finals. They are also on a run of 12 wins in their last 13 games.
"I felt more nervous last week," Fisiiahi says. "Last week felt really big because it was the Doggies and they were going so well. They were in form and their forwards scared me a bit, watching them against other teams. I feel much more comfortable this week because I know what to expect now."
He also managed to get his assignment in on time.