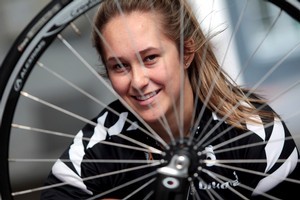 It is not often the best day of your life is swiftly followed by the worst.
Promising cyclist Stephanie McKenzie was still celebrating a silver medal at the junior world championships in August when her long-time coach told her he wanted to move on.
The 17-year-old - who had three other top 10 finishes at the world championships - had been guided for five years by Damien Wiseman and had known no other coach.
"At first, I couldn't believe it," she recalls, "and then as it sunk in things steadily got worse. We had a strong bond. I gave him a hug and said goodbye."
Wiseman, who cites "personal reasons", agrees it was a very tough call, especially as he also mentors Henrietta Miller, McKenzie's sprint partner at the world championships.
"It was hard but regrettably it did have to happen," he says. "It was a necessary point in her career. She needed a different influence on her programme."
Two months later, McKenzie - who briefly considered quitting the sport - is still without a coach but the West Auckland teenager is well used to countering adversity.
Diagnosed with type one diabetes as an eight-year-old, McKenzie fought through years of constant insulin injections.
Wiseman is also a diabetic and drew on his knowledge to devise a plan for the youngster. For the past three years, she has had a $7000 insulin pump - she describes it as a "manual pancreas" - that delivers insulin automatically straight into her stomach.
In season she trains three to four hours a day at the gym, on the road or on the ERG as well as lung-busting sessions at the Manukau velodrome.
McKenzie and Mitchell call the South Auckland venue the 'Manukau Beach' because the summer days spent there mean they never get near the surf.
McKenzie is also academically gifted; her grades were so high she skipped her last year at Auckland's Lynfield College and went straight to university.
Growing up she admired cricketer Craig McMillan, a fellow diabetic; her current cycling idol is Anna Meares and she has adopted some of the mantras of the feisty Australian.
"It's all about anger," says McKenzie, "and that gets transferred to the bike. The endurance cyclists are scared of track cyclists; we always act as if we are moody and angry."
There is certainly no room for manners as she rides her bike - which has pencil-thin tyres and no gears or brakes - at speeds of up to 60km/h around 45 degree bends on a banked track.
Says Wiseman: "She is explosive at the start, and has great acceleration. She has good top-end speed and her kick is developing nicely."
He sees her as a "fantastic ambassador for New Zealand sport", and feels McKenzie, who is of Maori descent, has 15 years of top-level competition ahead of her.
McKenzie had a promising gymnastic career and represented New Zealand in weightlifting (a hip injury in 2008 stymied that career) but for the past six years cycling has been her central pursuit.
The weight training base has given her an explosiveness rare in young athletes and gold dust for sprinters.
After a steady climb through the sport, the zenith came in August at Montichiari in northern Italy. It cost her $10,000 to get there but it was money well spent. McKenzie and Mitchell broke the world record - twice - on the way to second behind the Russian pair. McKenzie also managed 4th in the individual sprint, 7th in the 500m time trial and 9th in the Keirin.
Next stop is Adelaide for the Oceania championships next month. It's another self-funded trip and she plans to stay with an Australian cyclist friend who is also a diabetic.
While there, she will be on the scout for a coach to continue towards competing at the Rio Olympics in 2016.