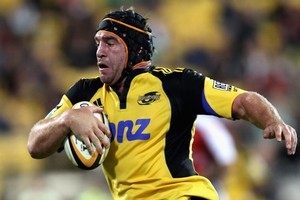 Loyalty is one thing and Graham Henry has done a great job playing mostly his best team this year - and look at the results - but, I'm sorry, I don't think Andrew Hore or Sitiveni Sivivatu should go away with the All Blacks if not fit.
I think it is a perfect opportunity to take someone else and build our depth.
I am not saying Hore and Sivivatu will not be in the frame for the World Cup. Of course they will be, they're class.
I am just saying they will have ample time to come back and show their fitness and ability during the Super 15 next year.
In the meantime, why not take someone like Jason Rutledge or Hika Elliott, whose form has appealed to me, especially as back-ups like Corey Flynn have been injured and neither he nor Aled de Malmanche have really excited.
As far as hooker is concerned, the selectors seem to think John Afoa can back up in all three front-row spots.
Well, if Hore's not up to much, surely that is a great opportunity to play Afoa consistently and see whether he can throw the ball in straight.
There's plenty of good competition on the wings. Hosea Gear has been playing well all season and, even though he's at the Commonwealth Games sevens, isn't that the perfect opportunity to take him on tour afterwards and work on whatever it is the selectors think is keeping him out of the side?
I think that same rule has to be applied to everyone - Sivivatu, Hore, Ali Williams, Isaia Toeava ... whoever.
If you are injured, you need to prove you are back into it and able to contribute before you go on tour. There's no point bringing anyone along half-pie then losing them when they are re-injured - especially as Henry and co are only taking 30.
While we are talking about hookers, I think there has been some very slow play throwing the ball into the lineouts in the ITM Cup. It seems to take forever sometimes. That is just dead time.
Add slow lineouts and re-set scrums and you have serious time wasted at the set piece.
Part of the problem is the level of the ITM Cup. If you watched the All Blacks recently, in their last test, it was about 23 minutes before the first scrum was put down. That's two teams playing a certain style, playing it well and at a high level. At ITM Cup level, it's not quite so good, granted, but I think some of the referees are not helping.
Often you see the ball travelling through the scrum to the No 8's feet, the front rows go down - and the ref blows it up and re-sets. Let the ball go, for Pete's sake. Some of the refs don't seem to know what they are doing when it comes to front row play and there have been some real bloopers.
The ref who conceded he hadn't realised Fritz Lee was the last line of defence when he coat-hangered the little Northland halfback has to be commended for his honesty. That should have been a penalty try and he admitted it.
That ref has two touch judges who were supposed to be helping. What were they doing?
Then I saw the Auckland No 8, Peter Salili, catch the ball and put a foot over the touchline as he did so. He knew the rules - that should have been a lineout back from where it was kicked. But the ref got it wrong.
Even good refs like Bryce Lawrence can be a bit off-beam at times. He warned Auckland first five Matt Berquist that he was kicking off way over the line. A ref is a ref, not a coach.