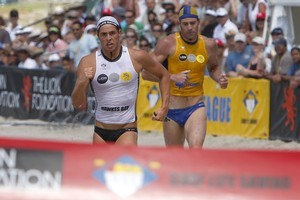 Cory Hutchings captained New Zealand to win the Lifesaving World Championships in 1998 and this week he returns as an assistant coach to help the Kiwis repeat history in Egypt.
New Zealand sends a 12-strong team to the Lifesaving World Champs - Rescue 2010 hoping that the experience of Hutchings, alongside respected head coach Scott Bartlett, will challenge World No1 Australia's dominance in the sport.
Hutchings, who won the World Surf Ironman biannual title in 1998, 2000 and 2002, has simple advice for the New Zealand team.
"Back yourselves and believe you are the best in the world," said Hutchings, who won the ironman and board race in 1998 World Championship.
Although there have been big improvements from the likes of China, Germany and Italy, Australia and New Zealand remain the two biggest rivals in the sport.
New Zealand finished runner up to Australia in 2008 when they relinquished a 54-point lead on the beach after dominating the pool events.
This time Hutchings expects New Zealand to be mentally tougher.
"I had a coach who used to say 'everyone bleeds, you just need to find out how to cut them' and the same applies to the Australian team - they have their weaknesses."
Hutchings said living and competing in Australia, like many of the current New Zealand squad, made his booming career.
He regards the team win in 1998 as "the biggest achievement in my career" and the key ingredient to success was self belief.
"I nearly became Australian in the way I thought as I believed that we were the best in the world and that we deserved to be world champions."
"I see a lot of that attitude in this team ... we believe they can win the world title but, more importantly, so do they."
Over 3000 athletes from around the globe travel to the coastal city of Alexandria in Egypt to compete in the biannual Lifesaving World Championships from October 2 to 17, 2010.
The championship is divided into 10 pool events (staged in Alexandria) and 10 beach/ocean events (Mamoura Beach).
Pool events include the 200m obstacle swim, the 50m manikin carry, the 200m super lifesaver and line throw.
The beach/ocean events are better-known events such as beach flags, beach sprint, surf race and surf ski race.
Back in 1998 New Zealand won the event on home sand in Auckland and the coaches believe this squad is the best chance since to repeat that one-off success.
Hutchings is coach of the beach team while the head coach Bartlett, who during his elite swimming career was on the cusp of representing Australia at the Olympics, is taking care of the pool squad.
"The athletes know what to expect, they know Aussie are going to come hard at them and that they will be put under pressure, but they are good enough to deal with that," said Bartlett, who was the assistant coach in 2006 and 2008.
In 2008 New Zealand lost their sizeable lead when they suffered two disqualifications for technical errors.
"We have looked at that and figured out ways to combat it," continued Bartlett. "But this beach team is much more experienced and there are world-class athletes there who we expect to keep the momentum if we get ahead."
Two of the leading members from the beach team are 22-year-old Daniel Moodie, who makes his debut, and 25-year-old Nikki Cox.
"Dan is an exceptional young talent and he has the potential to better the 10 national ironman titles Cory managed to accrue in his career," added Nathan Hight, the General Manager of Programmes and Services at Surf Life Saving New Zealand.
"He is growing into the role of being a big-time race leader at this level and he is certainly capable of fighting it out against Shannon."
Hight is referring to the Australian captain Shannon Eckstein, who is expected to once again be the cornerstone of the defending champion team.
"We train together all the time and he is definitely the one to watch," said Moodie, who won his fifth consecutive New Zealand ironman title this year.
"He doesn't make too many mistakes but he is definitely beatable - you just have to be on your game to keep pace and take your opportunities."
Moodie is the first New Zealander to compete in the Australian ironman series since Lucy Pengelly in 2007 and is one of only three New Zealand males - along with Hutchings and Glenn Anderson - to break into that elite level.
Hight said there were similarities between this team and the World Champion 1998 New Zealand Team.
"We had some real talent in the pool in 1998 which grew our momentum going into the beach events, then to have an athlete like Cory Hutchings line up and win a World Ironman title (among others) really makes it tough for the opposition to combat.
"It really takes a strong team across the board to be the best in the world in this sport.
"Scott and Cory have done a very professional job of creating a similarly balanced group going into Rescue 2010."
Nothing less than coming home with the trophy will be good enough for the New Zealand team.
"We are going for one place ... if they don't win they will die trying," concluded coach Bartlett.
"This team has the ability so it is an exciting challenge ahead."
MAKING WAVES
* New Zealand has won the World Championship once - in 1998 in Auckland.
* NZ Surf Life Saving celebrates its centenary this year.
World championship - New Zealand team
Men: Andrew McMillan (St Clair), Daniel Moodie (Westshore), Glenn Anderson (New Plymouth Old Boys), Kevin Morrison (Mairangi Bay) Paul Cracroft-Wilson (Fitzroy) and Steven Kent (Titahi Bay)
Women: Ayla Dunlop-Barrett (New Plymouth Old Boys), Chelsea Maples (Mt Maunganui) Julia Toomey (Muriwai) Nikki Cox (Westshore), Rachel Clarke (Orewa), Samantha Lee (Lyall Bay)