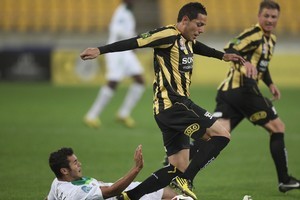 Actually, wasn't a record. While everybody, including the television commentators, became highly excited at the Phoenix's unbeaten run at Westpac Stadium on Friday night, the reality was that they only equalled it.
The Football Federation of Australia got its maths wrong - but the Phoenix should snatch the mark in their next home game against newcomers Melbourne Heart.
But, even if they break the Australian national league record, the Phoenix are still puzzling over the flip side of this undoubted achievement - they can barely win away from home. Midfielder Leo Bertos claims it is all down to an "attitude problem".
The 2-1 win over the North Queensland Fury on Friday made it 23 consecutive matches unbeaten at the Wellington venue, equalling a record set by Sydney United back in the early 1990s.
Bertos recognises the mark but admits their performances across the Tasman are becoming a real cause for concern.
"When we run out on the field at Westpac, everybody feels like they are on top of the world and we can't get beaten no matter what happens," says Bertos.
"We don't have that feeling when we play away. We need to sort out our away form if we want to improve on last season. That is definitely a big focus this year."
The Phoenix have won just two of their last 12 games on the road - most recently on the Gold Coast in February. So far this season they have just one point from four matches in Australia.
"Aside from all the travel, I think we have a different attitude when we get on the field," says Bertos.
"We have tried different tactics and strategies but that hasn't really worked because I think everyone's attitude has been different towards the game."
"It is something we need to fix ourselves personally and as a group. Over the last few weeks we have seen too many players that haven't been performing as well as they can. At home you get pretty much everyone performing well.
"I'm partly at fault as I seem not to be performing as well away as I am at home. You can't have three or four players not performing - it obviously affects the result.
"It is some sort of force we need to break through and all I know is that our attitude needs to change."
Bertos scored what turned out to be the winning goal on Friday and says he should be finding the back of the net more often.
The midfielder-cum-winger has scored just six goals in 54 matches in black and yellow.
"It has been weird. When I was growing up I was always near the top of the goalscoring charts. Maybe I have been too focused on working on other parts of my game and have neglected that side of things [finishing] which I took for granted.
"We seem to struggle to score a lot of goals - it is worse away from home and I do need to chip in more."
The Phoenix picked up three yellow cards in the Fury clash. Their season total of 12 is the highest in the league but Bertos doesn't think they are becoming a team of thugs.
"Some of them have been dubious but, yes, that is a different statistic for us. Maybe it is a good thing - everybody is putting their bodies on the line, trying their hardest and fighting for the cause. Maybe that is what we need when we play away."
The 28-year-old Bertos is proud of their record streak at home and says it gives them a massive psychological edge regardless of the opposition.
"Teams do get intimidated," asserts Bertos. "You can sense that when you are standing in the tunnel before the game. You look at the opposition and you know they are thinking, 'Oh we are in for a tough game here'. You get a little sense that they have already given up before it's started and that is definitely part of it."
He is sure their place in history is quite safe: "I think it will be a long time until it happens again."
Sydney United's record was set in the old Australian NSL; the next best in the A-League is Sydney FC's 14-match-run in the 2006-07 season.
On the world stage, Chelsea hold the premier league record with 86 home games without a loss between 2004 and 2008.
Whatever you think about the controversial coach Jose Mourinho, he has not suffered a single home defeat as manager in nine years, across an incredible 138 matches with Porto, Chelsea, Inter Milan and Real Madrid. His last - and only - loss at home came in February 2002.