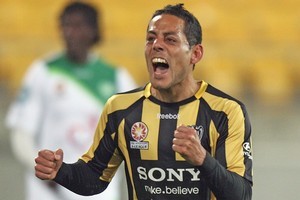 Wellington Phoenix scored two quick goals and slipped into cruise control before surviving a second-half scare to secure a record-equalling 2-1 win against North Queensland Fury in an A-League match tonight.
Goals to Chris Greenacre and Leo Bertos inside the opening 15 minutes looked to have effectively killed the contest and the home team were barely troubled until the final 25 minutes, which they were forced to play with 10 men after referee Peter O'Leary sent off midfielder Vince Lia.
Wellington were strolling to victory but Lia's 50-50 challenge on Ufuk Talay was deemed serious enough for a yellow card, his second of the match.
Talay and Wellington defender Ben Sigmund were both booked from the ensuing melee as tensions rose, then Fury defender Mark Hughes rubbed salt into Wellington's wound by rifling the subsequent freekick into the net after a wicked deflection left goalkeeper Danny Vukovic stranded.
But the visitors could not make the home team pay further and Wellington, deservedly on the balance of play, held on for their third win in eight matches.
They momentarily move from sixth to a third equal with Perth Glory after a 23rd consecutive match undefeated in Wellington, dating back to October 2008, which equals Sydney United's run at their home ground in the old national soccer league between 1996-99 as an Australian national league record.
The visitors made a horrendous start by conceding a goal which will undoubtedly be replayed ad nauseum during the coming days, although Justin Pasfield will be staying well clear of any television screens.
The North Queensland goalkeeper scuffed a simple third minute clearance straight into Greenacre's path, the Phoenix striker surely unable to believe his luck before composing himself and rounding Pasfield with ease for his first goal in seven matches.
In Pasfield's defence the swirling wind moved the ball as he approached it, but instead of readjusting he appeared to freeze and stabbed it about 10m in front of him.
The comical moment was just the start Wellington needed coming off an unsuccessful two-match road trip to Melbourne, and their confidence grew further when Bertos doubled the lead 10 minutes later.
Greenacre's work ethic was the catalyst as he harried and won a challenge inside the Fury penalty box before slipping the ball to Bertos, who rifled a shot past Pasfield.
Wellington dominated the rest of the first half without making a further dent into the scoreboard.
Midfielder Nick Ward pressed higher up the park while Bertos was more lively wider out and Greenacre had a solid game.
The wind almost nullified Daniel's crossing ability but he had a useful match replacing top goalscorer Paul Ifill, whose groin injury kept him in the stands, without being outstanding.
Defensively it was hard to fault Wellington, who were too tough for the visitors to break down when the numbers were even.
Vukovic did not have to make a first-half save but when called upon early after the break, he produced a brilliant reaction save to deny Osama Malik.
Wellington's classy central defensive pairing of Andrew Durante and Jade North hardly raised a sweat, at least until Lia was sent off and North Queensland equalised.
It made for a nervous final stanza for the 7212 home fans but Wellington held on to collect the points.
- NZPA