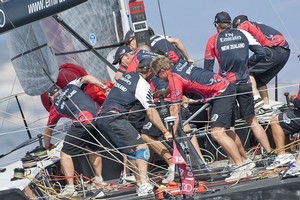 A last placing in the day's opening race today dropped Team New Zealand from the head of the fleet in the Med Cup yachting regatta in Italy overnight (NZT).
Skipper Dean Barker and his crew bounced back with a second and a third in the two other races on the afternoon's programme to lie third on the Region of Sardinia Trophy points table, seven points behind new leaders Matador of Argentina.
"We just stuffed ourselves in the first race," Barker said.
"we were fourth at one stage and then we just sailed ourselves back into the fleet, which is very unlike how we normally sail, but we bounced back with two good races after that".
However, Team NZ, the defending Med Cup champions, still hold a commanding lead in the battle for overall honours for the season.
They have a 51.5 cushion over nearest rivals Quantum Racing of the United States with three days of the series' final regatta to go.
Matador hit the front in the Sardinia event with two well-taken victories and a fifth placing off Cagliari.
They are five points clear of Russians Synergy heading into tomorrow's coastal race, for which points are increased by 50 percent.
With the 10-strong TP52 fleet experiencing excellent sea breeze conditions of nine to 10 knots, Matador took race one after hitting the front on the final run.
In race two, Synergy's New Zealand tactician, Rod Dawson, did a fine job in reading the wind on the first beat, allowing his crew to take command as the breeze lifted progressively on the right.
With dark clouds and humidity replacing the early sunshine, the final race was marred by an incident in which the French-German crew on All4One lost control as they tried to duck Spanish yacht Bribon, causing a collision.
Both boats had to retire and Bribon has been forced out of the rest of the regatta.
- NZPA