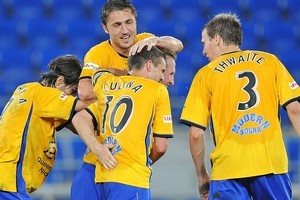 Former Manchester United defender John Curtis ended Gold Coast United's record home-game goal drought with a stunning left-foot shot in the dying stages of Wednesday night's A-League clash with Newcastle at Skilled Stadium.
In front of only 2091 spectators - only 54 more than their record low set last Sunday - Curtis broke free down the right hand wing and slammed a shot from the top of the penalty box which bounced off the cross bar and into the net to give the home side a 1-0 win.
The goal also brought an end to a 584-minute home-game goal drought - the worst in NSL/A-League history.
Until Wednesday night, the record was held by Preston which went 497 minutes between home-game goals in 1991.
Just like they did last Sunday against the Central Coast Mariners, United dominated the play but failed to set up quality shots.
Instead United's forwards were guilty of blazing away from outside the penalty box almost in hope that one of their hackneyed attempts would find the net.
First Andrew Barisic had a wild attempt from some 30m in the sixth minute and Jason Culina also threw caution to the wind with a couple of prayer kicks outside the penalty box.
The only genuine chance and well thought out attempt by United in the first half was in the 13th minute when Steven Fitzsimmons found an unmarked Robson at the top of the penalty box.
Unselfishly, Robson crossed to Barisic who was streaming in down the wing and inside the penalty area, but his shot was lame and lacked direction and slammed straight into Jets goalkeeper Ben Kennedy.
United looked more dangerous when they switched play and used Adama Traore to bring the ball into their attacking half.
The Jets, who were saved from folding by mining magnate Nathan Tinkler, lacked creativity and seemed content on stonewalling United in the first half.
After the break, they were far more potent and were able to shut down a lot of United's midfield forays.
The Jets' aggressive approach almost paid off in the 61st minute when the ball pinged around the penalty area between Ruben Zadovich, Nikolai Topor Stanley and Jobe Wheelhouse and was kicked clear only a metre from the goal line.
Just five minutes later Zadovich had the best chance to score when he was clear just inside the penalty box.
His well struck right foot shot was brilliantly saved by United goalkeeper Glen Moss.
- AAP