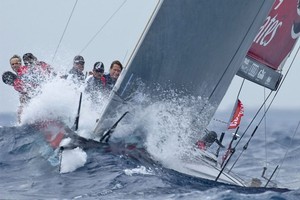 Defending champions Team New Zealand, who have a second consecutive Med Cup title almost in their grasp, will look to finish the season off in style this week.
The last of the five regattas that make up the TP52 circuit starts at the Italian island of Sardinia on Wednesday (NZ time), with skipper Dean Barker and his crew holding a comfortable lead over the rest of the 11-strong fleet.
For Team NZ, the target at Cagliari is not only the overall title, but also signing off with another victory.
"It's not just a case of trying to win the season," Barker said.
"What we've done till now has been great and it does give us a buffer and allow us probably to sail a little bit looser. We don't have to worry as much about what our opposition is doing, but we definitely go into this event wanting to win it."
Team NZ's cushion at the top of the table is 46.5 points, with Americans Quantum Racing their closes pursuers.
In their previous Med Cup outings going back to the start of last season, the most points that Team NZ have conceded at any one event is 38.
While that might suggest that completing a successful defence was virtually done and dusted, Barker was more cautious.
Provided Team NZ continued to perform the way they knew they could, "we should by okay".
But they had their fingers crossed against issues such as gear failure, which was their biggest concern.
"The shore crew have done an amazing job with the boat and, touch wood, we haven't had any gear breakages to speak of," Barker said.
"But things can happen. The boat is two years old and you try to prepare the best you can."
Team NZ have an excellent record on the waters off Sardinia.
They won the Med Cup event at Cagliari last year and also the Louis Vuitton Trophy regatta in America's Cup-class sloops at La Maddalena in June, when they came from 0-2 down to beat Russia's Synergy 3-2.
They also took out both races today on the final informal practice day.
Team NZ have been the dominant force during their time in the Med Cup, winning six of the nine events.
Their rationale for entering in the first place was to give their sailors some racing after the America's Cup was becalmed by the bitter court battle between then-holders Alinghi of Switzerland and American syndicate Oracle Racing.
With the announcement last week by new holders Oracle and Italian challenger of record Club Nautico di Roma that the next America's Cup would take place in 2013 in a new class of catamaran, Team NZ are set to end their involvement in the Med Cup.
Barker said he and his crew had enjoyed the circuit, and would have liked to return next year.
"But with the decision that Oracle have made, our focus has to be on multihulls and learning to race those well."
- NZPA