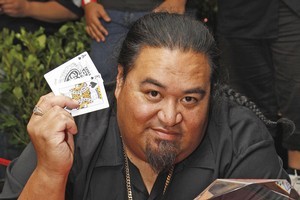 He's known as the "Godfather of Kiwi hip-hop", but Danny Leaoasavaii may have to consider a change of title to the "Godfather of Kiwi poker".
Last night at Auckland's SkyCity casino, Leaoasavaii - better known by his nickname of Brotha D - headed off an international field of 218 rivals to take out the Main Event at the New Zealand Festival of Poker 2010.
With the title comes the tidy winner's cheque of $170,000.
South Aucklander Leaoasavaii co-founded the Dawn Raid Entertainment music label three years ago, which had its biggest success with the release of the hit single Swing, performed by rapper 'Savage.'
The final table began yesterday afternoon with nine players battling for part of a total prize pool of $654,000.
Leaoasavaii didn't need a royal flush or four-of-a-kind to take the championship title from Australian Tom Grigg on the final deal of the tournament.
As so often happens, a simple hand was enough to win the heads-up pot.
The champion had Ace high over Grigg 's Jack high. The Melbourne man takes home $107,000 for second place.
Reputations counted for nothing in the Main Event. The big names like World Series bracelet winner Simon Watt, Australian pro Tony Hachem, and New Zealand's most noted player Lee Nelson were all early casualties.
A total of 28 countries were represented in the starting field, across five continents.
RESULTS AND PRIZEMONEY
1. Danny 'Brotha D' Leaoasavaii (New Zealand) - $170,000
2. Tom Griggs (Australia) - $107,000
3. Srdjan Mitrovic (New Zealand) - $60,500
4. Danny Silk (Australia)- $49,050
5. Tamas Lendvai (Hungary) - $40,900
6. Ropati Toleafoa (New Zealand) - $34,300
7. Santi Soriano Ramos (Spain) - $27,800
8. Noah Vogelman (United States) - $21,250
9. Leo Boxell (Australia) - $ 16,350