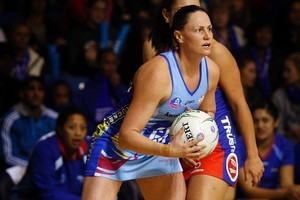 The Northern Mystics have sprung a late surprise in their line-up for next season, with former Australian shooter Megan Dehn set to be named in the Auckland squad when the teams are released today.
The 10 ANZ Championship franchises had to submit their full line-ups to the league office yesterday.
Dehn, who has played for the Southern Steel for the past three seasons, had hoped to return to Invercargill next year but a failed citizenship bid ended her chances.
The Steel had signed Natasha Chokljat from the Melbourne Vixens and under the rules could not have two ineligible players on their books.
The crafty Australian shooter was going through the process of getting citizenship, but failed to meet the residency requirements. Sensing an opening, the Mystics pounced and were able to secure the veteran for what is expected to be her final season in the transtasman league.
Dehn said after failing to secure her residency she was considering retiring, but a strong sales pitch from Mystics captain Temepara George convinced her to make the move to Auckland for one last hurrah.
"Temepara had a good chat with me and she can be very persuasive."
Dehn formed a friendship with George when the pair played together in the now defunct Northern Force franchise in the old domestic league.
"I started my career over there in Auckland, so it'll be nice to finish off with them.
"Because I worked over there for that year and a half I was there, I have quite a lot of friends in Auckland, so it's kind of not an issue to move away from home, it's somewhere I have a lot of ties to already."
While the inclusion of Dehn is a huge shot in the arm for the Mystics campaign, Silver Ferns management might not be quite so overjoyed with the announcement.
With the 36-year-old able to cover both shooting positions as well as wing attack, any court time she receives will come at the expense of test incumbents Maria Tutaia and Grace Rasmussen, or Fern-in-waiting Cathrine Latu. But Mystics coach Debbie Fuller stressed Dehn is there to provide back-up from the bench and to offer versatility - similar to the role Jenny-May Coffin, now the Mystics assistant coach, provided last season.
"It is a really tough competition, so you need to assemble a deep squad. Having somebody like Megan who is experienced and offers a different approach to the attacking game I think will provide an element of unpredictability for our team," said Fuller.
The final place in the Mystics squad will be filled by Auckland Waitakere midcourter Kayla McAlister, younger sister of All Black Luke.
McAlister, who as a teenager played for the Western Flyers in the National Bank Cup, has been a training partner with the Mystics for the past year.
The Vixens have also pulled off a big coup at the 11th hour, signing England defender and star of the Adelaide Thunderbirds for the past three seasons, Geva Mentor.
The new eligibility rules prevented the Thunderbirds from keeping both Jamaican shooter Carla Borrego and Mentor on their books.
Joining Mentor in returning to the league is her defensive partner in the national side, Sonia Mkoloma (NSW Swifts) - a move that could signal the end of their international careers.
In a statement released yesterday, England Netball confirmed the star duo's decision means they will be ineligible for selection in next year's world championships in Singapore.
England Netball claims the national squad collectively agreed two years ago that they would all remain in Britain in 2011 to play in the Superleague to prioritise England's preparations.
MYSTICS SQUAD
Temepara George (c), Kayla Cullen, Megan Dehn, Joline Henry, Cathrine Latu, Kayla McAlister, Bailey Mes, Jessica Moulds, Grace Rasmussen, Rachel Rasmussen, Anna Scarlett and Maria Tutaia.