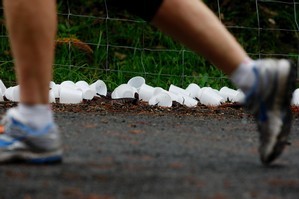 A record number of runners competed in the Moro Marathon last year but the course records, which have not been threatened in 17 years, are not likely to be broken in Dunedin tomorrow.
That is the opinion of last year's champion John Earles, who is not competing this year after suffering a knee injury in training.
"No one will break that marathon record," said John Earles, who ran the event in 2hr 48min 10sec last year to beat Tom Hunt by more than a minute.
Last year's winning time was more than 20 minutes slower than the time set by Paul Allison when marathon running was thriving in New Zealand.
In 1993, when Arthur Lydiard and Dick Taylor were special guests at the event, Allison set the marathon course record in a time of 2hr 24min 31sec.
Earles was disappointed he is unable to defend his title and said his win was more than a little unexpected.
"I am not even a club runner so I thought I had no chance of winning - I just entered to have some fun," he said.
"But I am proud of how I ran and it was great to come in first."
Earles expects local Hunt to be the favourite this year but agrees it is a stretch to pull in the best time achieved by Allison.
The record holder, who is now on Sport and Recreation New Zealand's board of trustees, was a former New Zealand marathon representative for eight years and won the Pacific Rim marathon title, also in 1993.
"I'm a little surprised because it wasn't an ultra fast time," said Allison, who used the Moro Marathon to prepare for international events such as the New York Marathon.
Coincidentally, in the same year Gabby O'Rourke of Wellington came within five minutes of breaking the course record in the women's field with a time of 2hr 52min 1sec.
This was outside the record of 2hr 47min 4sec set by Bernie Portenski in 1992.
"It's nice to still be remembered but it would also be nice to see a good runner better it," said Allison.
"Dick Taylor was my coach the year I broke the record in '93 and there was a financial incentive of $1000 to anyone who could break 2hr 25min.
"I remember Dick saying, 'don't go too hard', so I did just enough and we spent some of the money on beer to celebrate it appropriately."
The event organisers also have reason to celebrate as the number of athletes lining up for one of the signature events of the South Island has been on the increase over the past seven years and spiked last year.
There was a 24 per cent increase in the number of runners from the previous year that saw a record number of 2369 entries.
That included a record field of 218 runners to contest the full marathon, 1370 in the half marathon and 781 in the recreational walk.
Picking up the pace
* There was a 24 per cent increase in number of runners last year that saw a record number of 2369 entries in the Moro Marathon.
* In 1993, Paul Allison set the men's marathon course record in a time of 2hr 24min 31sec.
* In 1992, Bernie Portenski set the women's course record of 2hr 47min 4sec.