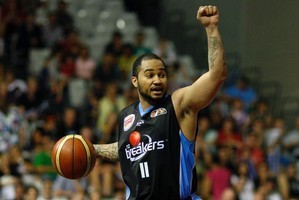 The Breakers have finalised their playing roster for the Australian National Basketball League season with the return of American guard Kevin Braswell.
Braswell's arrival towards the end of last season coincided with a six-match winning streak and although it was not enough to take the Breakers into the top-four playoffs, his vision and passing game were seen as crucial in sparking the attacking talents around him, such as Kirk Penney and CJ Bruton.
Breakers coach Andrej Lemanis is eagerly awaiting the 31-year-old's return.
"Kevin rounds out our roster nicely," Lemanis said yesterday.
"He is at a stage of his career where he is over himself. He is prepared to sacrifice individual glories for the good of the group, which fits perfectly with who we are as a team and a club.
"I know the guys from last year are excited to have him back. They feel like we just got started and now we have a chance to keep building with him."
Braswell spent time playing in France after leaving New Zealand at the end of last season and helped to deliver a title to his Limoges club, something he was keen to repeat with the Breakers.
"I can't wait to get back to the Breakers and catch up with the guys," Braswell said.
"I had a couple of options open to me and a few things maybe going on in Europe but, given the success we had at the end of the last year and my experience with the club, I thought it was perfect to come back for a full season."
The competition starts on October 15.
- NZPA