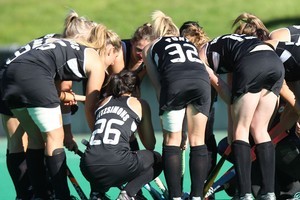 New Zealand wasted a swag of chances to lose their opening women's hockey World Cup match 2-0 to Germany in Argentina this morning (NZT).
Two goals in three minutes midway through the first half proved the difference for Germany in an even, entertaining pool fixture played in cold conditions at Rosario.
The Black Sticks trudged off looking distinctly disappointed at the result but they created enough chances to suggest they can threaten at the 12-nation tournament.
They doubled the Germans' shots at goal, making 14 attempts to seven while they also made 23 penetrations into the attacking circle to their opponents' 17.
The last five minutes were almost comical if it wasn't so agonising for the Black Sticks as striker Gemma Flynn failed to complete four clear chances against a German side scrambling to defend their advantage.
Adding to the pain was that this was a match targetted as crucial by New Zealand coach Mark Hager, knowing Germany are a team capable of obstructing their path to the semifinals, which will feature the two top qualifying teams from both pools of six.
"I am disappointed to create so many chances and not put them away," Hager said.
"Having the inability to finish was the biggest disappointment. We have to put chances away. I think that is the biggest difference between us and Germany, Australia, Argentina (these teams) have a clinical ability to finish."
Hager's team dominated much of the second spell, streaming forward impressively through Flynn and Anita Punt in particular, while captain Kayla Sharland was a pivotal passer in the midfield.
Sharland was pleased with the number of chances created but warned her team had to be better technically at the art of finishing.
However, a reluctance to shoot and some sharp work by German goalkeeper Kristina Reynolds proved problematic.
German captain Fanny Rinne summed up her team's outing succinctly.
"New Zealand had a lot of chances, but we had a really good goalkeeper."
The victors scored first through Celine Wilde in the 14th minute after some nifty buildup work by 363-test veteran Natascha Keller.
One statistic the Germans dominated was penalty corners earned - which was 8-2 in their favour - and they took advantage of one in the 17th minute when Tina Bachmann struck low into the left corner, sneaking under goalkeeper Beth Jurgeliet.
New Zealand lost 5-2 to the same opponents at last month's Champions Trophy in Nottingham so can be pleased with a tighter defensive performance.
That will be needed in their next match on Thursday morning (NZT) when they face defending champions the Netherlands.
The brilliant Dutch opened their campaign with a 7-1 crushing of India today.
- NZPA