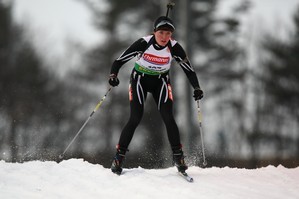 While Sarah Murphy is preparing to make her Uni Snow Games debut tomorrow, she will have one eye on the future of her chosen sport at the Wanaka Biathlon Club 2010 Championship event.
Murphy is famous for being the first New Zealander to compete in biathlon, the sport that involves cross-country skiing and shooting, at the Winter Olympics.
Tomorrow morning at the Snow Farm, 35km out of Wanaka, she will lead the way in what is effectively the national championship for the sport.
About 30 biathletes will be in action with a group of teenagers from the local region showing real interest in the sport.
The standard will not be Olympic or World Cup level - not even close - but she hopes that she can continue to inspire involvement in the sport she has excelled in.
"It is to get them to have a go," said the 22-year-old Murphy.
"If they can get into the sport at this age then who knows you might have some of these kids going on to represent New Zealand on the World Cup circuit like me - that is the goal.
"Not many people get to be involved with the development of a sport right from the start so it's a real honour to be a part of it."
Simon Noble, a committee member of the Wanaka Biathlon Club, the only biathlon club in New Zealand, said the influence of Murphy on the next generation was immense.
"Sarah is an inspiration to everyone in the sport in New Zealand," said Noble, who has been fascinated with biathlon since watching the sport at the Olympics on television more than 20 years ago.
"It is the alluring combination of going hard out on skis and then having to be calm to hit targets when you are shooting. It is unusual and that appeals."
"It is the gangster sport," added Murphy, of a sport that is static and dynamic.
"You are carrying a rifle and heading up and downhill on skinny skis shooting at targets - it's full-on fun."
Noble said the vision was for homegrown athletes to follow in the footsteps of the Canadian-born Murphy.