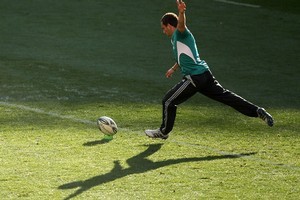 It was hard to understand why the South African Rugby Union shifted this morning's test away from the fortress that is Ellis Park. It is one of those grounds, a cauldron that lifts the Boks and intimidates opponents.
Given the way the All Blacks had been playing and the switch to a ground that was unknown by both teams, I was reasonably confident how we would go this morning.
Hopefully my confidence was not misplaced as I would like to see the selectors give more game time to the guys we don't know too much about.
Aaron Cruden would be one who needs to play more. I'm not advocating wholesale changes or selecting obviously second-string teams - but I would like to see some individuals on the paddock for longer stretches.
Sydney might be timely to bring Cruden on at halftime. Or it could even be an opportunity to start him with Dan Carter at second five or at least on the bench.
The game in Hong Kong, especially if the All Blacks win in Sydney, is where they can make a few more changes.
We haven't seen anyone else wear the No 7 shirt this year and that remains something we have to fix. I know Graham Henry has said Kieran Read covers openside but it might be they have to look outside the camp.
Tanerau Latimer and George Whitelock played last year and, with 30 likely for the end of year tour, there may be room to take them both.
When the All Blacks played Munster in 2008 there was enormous value from those types of games. Players such as Ben Franks, who played in that game, will have experienced what it is like to wear the black jersey and learned that sticking it on doesn't mean you are going to win or that things will be easy.
These types of experiences are invaluable and the end-of-year tour is the place where the All Blacks can look beyond their frontline. We could see a front row of Ben Franks, Corey Flynn and John Afoa at some stage.
I also think one week we need to see a loose trio featuring Jerome Kaino, Read and someone other than McCaw on the openside. Then the next, maybe we have Richie, Kaino and someone else at No 8.
We might see Brad Thorn and Keven Mealamu on the field for fewer minutes, too. Both have had big workloads and given everything. Sam Whitleock and Anthony Boric need some more time and I think they can be given it.
The one other man who will come into the frame is Sonny Bill Williams.
He probably just needs to manage one average game for Canterbury to be selected.
I have heard some people say that, because of his injuries, Williams has been a waste of money so far. What I say is, look at the form of Ma'a Nonu, Conrad Smith and when he wasn't injured, Richard Kahui.
There is no better way to bring the best out of players than to have young players come along and threaten. I'd say Williams, just because of the pressure he has put on the incumbents, has already been worth the money.