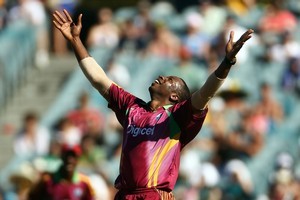 Northern Districts look set to revolutionise the New Zealand cricketing landscape by using as many as four overseas players in this season's Twenty20 competition, set down for December.
At the top of the wish-list are two all-rounders - West Indian Kieron Pollard and Australian Andrew Symonds.
Pollard, who has played 50- and 20-over matches but not tests for the West Indies, has a contract offer. He is expected to sign because the New Zealand competition comes in a lull in the schedule for the West Indies and the tournament is seen as a warm-up for the World Cup in February.
The 23-year-old all-rounder is something of a T20 mercenary, despite less than four years as a first-class cricketer.
He can already list South Australia, Somerset, Mumbai and his Caribbean home of Trinidad & Tobago as teams he has played for in the sport's most abbreviated format.
He has visited New Zealand once, for the one-day series in late 2008.
Pollard was the most expensive buy, equal with Shane Bond, at the last Indian Premier League auction, going to the Mumbai Indians for US$750,000.
He played 14 games, producing a strike rate of 186 with the bat and a wicket every 15 balls.
He helped Mumbai to the final where they were beaten by the Chennai Super Kings, despite Pollard making 27 off 10 balls in the chase.
One factor that might delay his decision is a serious right eye injury, sustained batting for Somerset against Hampshire in the English T20 final when a Dominic Cork bouncer sneaked between the grill and lid of his helmet.
ND's close links with the Queensland Bulls mean Symonds is a viable prospect too, given he has not played for Australia in any format since May last year.
ND coach Grant Bradburn worked with the Australian state side last season while they utilised the services of Black Caps skipper Daniel Vettori for the Twenty20 Big Bash.
Like Pollard, Symonds has been making the most of life on the T20 circuit, most recently with Surrey and the Deccan Chargers, in addition to the Bulls. Symonds helped the Chargers to second on the round robin standings in this year's IPL, a tournament they won with his services last year.
Disciplinary and drinking problems have seen him stood down from the Australian team indefinitely but he is still a substantial lure for any T20 crowd.
Buoyed by two titles last season (the Plunket Shield and one-day championship), a strong balance sheet and loyal, wealthy sponsors, ND are believed to be on the hunt for further overseas talent for their roster. They have not won the T20 championship.
The South African top order has been one area of interest and ND have not ruled out looking at another big name Australian, possibly a T20 specialist like opening batsman David Warner.
Getting last season's import, Tillakaratne Dilshan, back is understood to have been ruled out as Sri Lanka want him fully fit for the World Cup.
That is despite the influence of Vettori who has become friends with last year's T20 player of the year after their time together at the Delhi Daredevils.
Provincial teams are expected to use two overseas players a game in the HRV Cup so the idea behind ND's roster is that each player will come in for a few games at a time. They would be paid on a pro rata basis, much like the IPL.
Deal-making with overseas players is rife among other provinces, too.
Wellington are understood to have Australian pace bowler Brett Lee in their sights, Canterbury are closing in on nabbing his countryman Shaun Tait and Otago are expected to sign Sussex batting all-rounder Chris Nash.
The added depth to the international contingent is helped by the fact the Australian T20 in January follows on from New Zealand's.