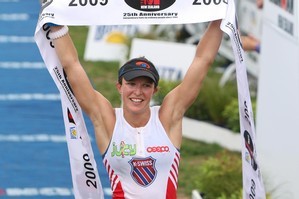 Melanie Burke will make her debut at the Duathlon World Championship in two weeks and tomorrow in Christchurch she gets to measure her ability against one of New Zealand's best endurance athletes.
Gina Crawford (nee Ferguson), the four time Ironman champion, makes her duathlon debut in the Standard Distance of the Contact Duathlon Series and Burke is looking forward to her raising the bar.
"She will be a good yardstick to see where I'm at," said Burke who won in Feilding by nine minutes.
"There isn't a lot of depth in New Zealand and you need to be pushed to keep improving.
"I have never met Gina before but I am hoping to learn from her and talk to her about how she prepares for big races."
While Burke's big race to prepare for is the 2010 ITU Duathlon World Championship in Edinburgh from September 3 to 5, Crawford's focus is an ironman in the US in September.
Crawford began ironman events in 2007 and now has four ironman victories and three iron distance victories to her name.
In 2008 she posted two sub nine hour times and now holds the record of fastest New Zealand woman in the sport.
She has spent the past two weeks in Australia training and is looking forward to making her duathlon debut.
"I am excited to give it a go," said Crawford, who won the New Zealand Ironman in Taupo last year.
"It is obviously a lot shorter than what I am used to and I am known more for my endurance than my speed so it's a whole new challenge.
"I am not taking it too seriously - it is going to be a long training session and a bit of fun."
The 29-year-old adds a level of experience to the field, depth that can be lacking in New Zealand when preparing for international competition.
"Most of the top athletes are in the Northern Hemisphere at this time of year so it's nice to have an event in New Zealand for a hit out."
Not that the 30-year-old Burke needs to be mentored in the international arena.
She has an impressive sporting background; she rowed for 12 years where she represented New Zealand at two world championships before she turned to marathon running.
Burke backs her ability on the bike but admits that she will need to adjust her game plan for the World Champs where drafting is legal.
"It means I need to be a lot more aware of everything that is going on around me and what the other athletes are doing not just my own race," she said.
"I reckon I will catch a few of the girls on the ride that is now one of my strengths and I need to back it."
Crawford has a simple strategy for the Standard Distance event.
"It is going to be interesting because I am not the best runner right from the get-go so I will look to make up some ground on the bike and then hit it hard coming home on the final run."
Claire Attwood, the New Zealand Duathlon Team Manager, said there are 28 Kiwis in various age divisions heading to the World Champs in Edinburgh.
Burke is the only elite woman, Wellington's Ben McHale is the only elite man and Cantabrian Adam Milne will compete in the Elite U23.
Haidee Stratford, the TRI NZ Event Director, hoped the increased international exposure for the athletes will raise the profile of duathlon and triathlon.
"Duathlon is triathlon's poor sibling but there are still plenty of athletes who pride themselves on these events," said Stratford.
"Gina is a big drawcard and she is a local down there now so I am sure there'll be some interest in her performance."
Races contested in Christchurch are the Short Distance (3km run/10km bike /3km run), Sprint Distance (5km/20km/3km) and the Standard Distance (10km/40km/5km) as well as the National Schools Events.
The event is also the Oceania Championship and the National Championship for duathlon.
Stratford expected the times to be fast as the Christchurch course is flat but the first run begins with a steep hill to a beautiful view of the city.
"That is going to separate the contenders from the rest pretty quickly," said Stratford.
Burke enjoys hill running and has completed endurance training for the Edinburgh race that is known for its undulation.But Edinburgh is at the back of her mind as she tries to prove to Crawford and herself that she is the best duathlon athlete in the country.