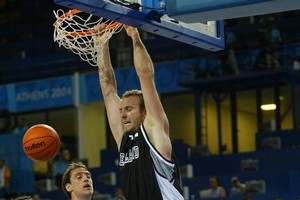 American forward Gary Wilkinson has signed to play with the New Zealand Breakers for the upcoming Australian National Basketball League season.
The signing of the 2.1m forward means the Breakers have given up their pursuit of New Zealand NBA player Sean Marks.
Coach Andrej Lemanis said Wilkinson, 27, from Utah State College, was a player he had been interested in for some time.
"I have been aware of his abilities for some time but frankly thought he might be out of our league in terms of money," Lemanis said.
"But he came up on a list from one of our agents this year and when the offer was made I am happy to say it worked out."
Lemanis said Wilkinson was a versatile forward who would give the Breakers extra options.
"He won't necessarily blow anyone away with outright athleticism but will use his body well, is a strong, smart player with a good knowledge of the game," he said.
"The bottom line, though, is Gary is simply a good player. Sometimes in the search you might be looking for someone bigger, someone more athletic; someone who can shoot better; well most of the time you just need a good player and that is what we have got."
Wilkinson didn't play basketball as a senior in South Jordan, Utah, after he was kicked off the programme for attitude problems. The Breakers said he went off the rails before the suicide of a friend made him rethink his life.
He eventually went to Utah State College, where he was named Western Athletic Conference player of the year.
Breakers manager Richard Clarke said the club now realised Marks wouldn't be a Breaker from the start of the season but they hadn't given up.
"Sean [is] unable to commit to a contract as he looks to exhaust a couple of opportunities in the States first, and he's looking forward to an addition to their family in November, we are totally understanding of that," he said.
"Both parties are keen for it to happen some time in the future." The NBL starts on October 16.
- NZPA