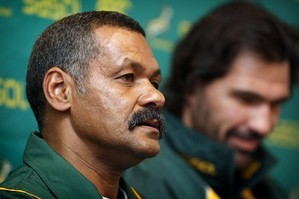 The Tri-Nations moves to the high ground and South African coach Peter de Villiers is on shaky ground.
I'm brimming with confidence again about the All Blacks' prospects, and if the Springboks can't improve by a fair margin, their controversial coach could be in serious trouble.
South African rugby won't tolerate a shoddy display from the world champions on their home patch.
If South Africa are nervous about their World Cup prospects under de Villiers, they have little time to make a change because to do so in the actual year of the tournament would be courting disaster.
De Villiers has made a lot of changes to his side and this is the action of a desperate man.
I've been prepared to suggest margins of victory up until now but I'll back off a little - except to say the All Blacks will win.
The desperate situation, altitude and home support in the massive Soccer City stadium won't be enough to save South Africa.
The All Blacks are playing with so much confidence, and also a lot of individual skill from fullback to the front row.
We have also seen how consummate they are on defence, and while the All Blacks may not have an advantage in outright power, they look leaner and meaner than their opponents in this series. Their fitness is a telling factor.
De Villiers is under the hammer. You get the feeling that cracks may appear, and World Cup history shows that the tournament is won by teams with cohesive leadership.
There has been a bit of loose talk about South Africa's World Cup-winning coach Jake White returning, but he isn't the man to lead the Springboks. White was a negative, defensive coach and not in tune with the new rugby era.
To give de Villiers his due, he does appear to be picking players to try to embrace a more flamboyant style.
This includes the selection of Juan de Jongh in the centres but I believe he will struggle in the power department.
The new laws suit the way New Zealand plays rugby and the other countries are on the back foot. Of course the inevitable question will be raised - are we peaking too early?
But there is still some way to go in the development of a number of our players who are still establishing themselves at test level, and that means the team itself also has some way to go.