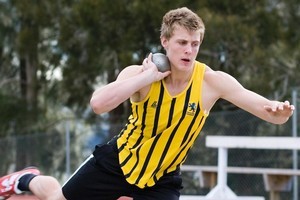 World champion Jacko Gill battled through thunder, lightning, rain and a virus to qualify for the finals of the shot put on the fourth day of the Youth Olympic Games in Singapore yesterday.
The competition was eventually postponed with one round of qualifying remaining but with Gill comfortably in second place, he will bypass his final round which has been rescheduled for today.
The rowers finished on a high note with world junior fours champions Eve McFarlane and Beatrix Heaphy-Hall winning the B final in the pair and teammate Hayden Cohen was in the single sculls B final.
Cohen, trailling by more than a second at the 500m, came storming home to be pipped for the win by just 4/100ths of a second behind Hungary's Mark Biro.
Heaphy-Hall and McFarlane trailled Bulgaria at the halfway point but moved into overdrive to win in 3:38.69, nearly 4s clear.
North Shore swimmer Chloe Francis is through to another final, qualifying seventh fastest in heats of the 200m freestyle after a solid 2:03.92 in her morning swim. She was fifth in her heat and is confident of going much quicker tonight and hopefully under the age group national record of 2:0236 held by Delhi-bound Lauren Boyle.
Equestrian Jake Lambert (Cambridge) went clear in a perfect start to his competition, helping the Australasian team to a share of first place after the first round of jumping at the Singapore Turf Club. His Australian teammate also went clear with the Oman rider recording four faults to give them a share of the lead with Africa and Europe.
New Plymouth's Denay Cottam was 12th in the 3.1km cycling time trial at Tampines Bike Park in 4:12.12, 15s behind the fastest rider, Rafael Ferreira (Portugal). Halfway through the competition New Zealand is 21st on 134 points with Italy leading on 38.
New Zealand joined all before them in falling to the powerful Serbia 30-13 in men's basketball. The unbeaten Serbs put on enormous defensive pressure on the Kiwis who managed just 16 per cent shooting from the floor. New Zealand is in a share of third place with Puerto Rico and are now unlikely to make the top two for the playoffs.
The New Zealanders will all compete in the B finals on the track with Hamilton's Jenna Hansen 15th in the 2000m steeplechase in 8:11.91, Wanganui's Brad Mathias 10th in the 1000m in 2:44.64 and Wellington's Yarride Rosario fourth in his heat of the 100m in 11.46s.