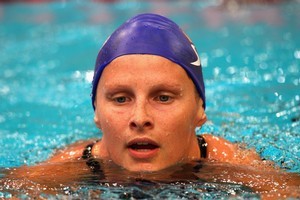 Once the baby of the Australian swim team, Leisel Jones has become the mother hen, protecting and guiding the new wave of future champions including 14-year-old Brisbane sensation Yolane Kukla ahead of the Pan Pacific Championships in California.
Australia has 59 swimmers at the PanPacs, with one-third experiencing their first major international meet.
"I definitely feel old on this team," 24-year-old Jones, who became Australia's youngest Olympic medallist when she won two silvers at the 2000 Sydney Games aged 15.
Jones goes out of her way to include Kukla and other younger members in shopping trips or movie nights because she remembers how tough travelling internationally in a senior swim team can be for a teen.
"When I was younger, I sat in my room and tried to do my own thing and probably just intimidated myself that way," said Jones, who is competing in the 50m, 100m and 200m breaststroke.
The Australians are hellbent on earning back at least the country's number two world ranking and possibly challenging the Michael Phelps-led United States for the top spot at the five-day PanPacs.
But the meet, held at the William Woollett jnr Aquatics Centre in Irvine, south of Los Angeles, is also an opportunity for some Aussies to secure a handful of open slots on the Commonwealth Games team.
Kukla, who seriously started swimming only two years ago, will be one of the first Aussies in the pool with the 50m butterfly heats on day one. Kukla is also competing in the 100m butterfly and 50m and 100m freestyle.
There will be some nervous Australian team officials watching the team's glamour girl, Stephanie Rice, as she tests her injured right shoulder in the 50m butterfly heat.
Rice, a triple Olympic gold medallist, has scaled back her schedule at the PanPacs from seven events to three because of an inflamed bursar that has been troubling her since the Beijing Olympics.
- AAP