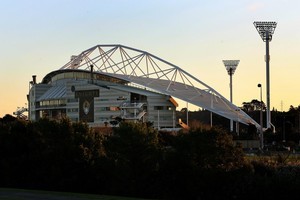 North Harbour Stadium is the most likely venue to host the All Whites game against Honduras on October 9, despite the fact it can hold only 19,000 fans.
New Zealand Football have already confirmed Wellington's Westpac Stadium will stage New Zealand's match against Paraguay on October 12 but are still working on the venue for the first game of an All Whites double header.
Despite North Harbour's limitations, there is a feeling the All Whites need to play there because of NZF's contract with the stadium - they are obliged to play games in Auckland at North Harbour Stadium until 2014-and because Auckland needs a game.
The city has been usurped by Wellington as the premium football venue and last hosted a match in 2008 when 6500 fans watched the All Whites beat New Caledonia 3-0 in a World Cup qualifier. North Harbour has hosted two of the five internationals played in this country in the past eights years.
Stadium bosses have until tomorrow morning to present their case to NZF but they have the inside running. Christchurch's AMI Stadium is the most likely backup option ahead of Hamilton's Waikato Stadium.
North Harbour Stadium can accommodate 25,000 fans but this includes the use of both embankments which is unrealistic in winter. There is seating for 19,000, which means the match against Honduras would need to be close to a sellout for NZF to break even.
North Harbour is problematic for other reasons, not least because of the fractured nature of the Auckland political scene.
NZF might look to revisit their contract with North Harbour Stadium once the Supercity comes into effect later this year, which might open the possibility of NZF using Eden Park and Mt Smart Stadium as well as North Harbour Stadium in future. A venue could be decided depending on the quality of opposition and size of crowd expected. Both Wellington and Christchurch have an advantage over Auckland in that respect because there is a more unified approach which sees both the stadium management and city council work more closely together.
NZF are working on a plan to have the All Whites play one good quality country a year in this country on top of any Confederations Cup and World Cup qualifiers.