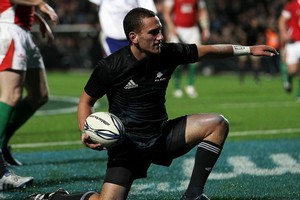 As he scanned the All Blacks' unbeaten record this season, coach Graham Henry admitted rookie five-eighths Aaron Cruden should have started against Wales in Hamilton.
However, the selectors were apprehensive after the scars of four defeats in 2009, they wanted to build and maintain the All Black momentum and Daniel Carter was crucial to that progress. The third test in June was too soon for the panel to play risk or reward.
So the question of Cruden's first test start remains unanswered. The trick is when to pick him as the All Blacks eye their remaining seven offshore tests to the end of the year.
"When you get bitten in the arse like we did last year, you are inclined to be a bit more conservative," Henry acknowledged.
"We went through a bad patch and got beaten by South Africa three times last year and the selection group just wanted to make sure we were pretty solid this season.
In hindsight we should have played Aaron in Hamilton.
"It will happen sooner rather than later, though."
Henry wants to introduce more of his fringe All Blacks to test rugby so they are ready to step up, if necessary, during next year's World Cup.
There will not be any experiments, though, for the All Blacks challenge next Sunday against the Springboks in Soweto. Playing the Boks in their backyard had been the most difficult assignment for the All Blacks under Henry's watch.
The All Blacks have lost only 12 internationals during Henry's 84-test reign, with seven of those defeats against the Boks and five of them in the Republic. Soweto would be an ideal next hurdle for the All Blacks, Henry said.
"The Springboks will be like we were in Auckland. We had been beaten three times by them and they have come off three beatings in the Tri-Nations. They have been at home for a while where their coach and players are getting some stick."
Playing at altitude would alter some of the All Black strategies but they would be favoured with the test starting in 20C in the late afternoon. The Springbok tactics would not be hard to decipher.
"They will be extremely physical, they will try and bully us and I think they will revert to what has been successful for them in the past."
"They will play a big field position game, they will put a lot of pressure on us with their kicks to try and get into position where they can kick goals and drive lineouts in the 22.
"This game is what the All Blacks need now. Once this test is over and depending on the result, we may have more freedom for some of the guys who need to play international rugby."
The All Blacks were a better side than Henry thought they would be in May, when he and his selectors started to distil the talent.
"It has been going well so far because there was a feeling in New Zealand after the Super 14 final that we would not be able to match the Springboks," Henry said.
"It has produced something that is beyond our expectation but in saying that, I still think there is plenty of wriggle room to improve."
The side's defence had been outstanding in Christchurch.
"We have practised a lot that we have not put on the track yet. I'll have to talk to DC [Carter] about that."
Once they reached South Africa, the team would do more classroom training and work through the details with the leadership group.
Richie McCaw had led the side in 50 tests and was a commanding presence in the group while vice-captain Daniel Carter was a great student of the game, which helped explain his impact.
Aaron Cruden
* Age: 21, Height: 1.78m, Weight: 79kg
* Five All Blacks tests (40 minutes)
* Sub v Ireland, New Plymouth (7 minutes)
* Sub v Wales, Dunedin (8 minutes)
* Sub v Wales, Hamilton, (10 minutes)
* Sub v South Africa, Wellington (7 minutes)
* Sub v Australia, Melbourne (8 minutes)