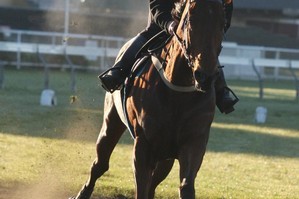 Just as major meetings in Sydney and Melbourne face weather-ravaged tracks today, the Te Rapa and Riccarton surfaces eliminate any chance of a "good thing" in the punting business.
Each way bets at around the $4 to $6 looks the sensible approach.
The $70,000 Waikato Stud Foxbridge Plate is a for-and-against affair, but Katie Lee (No13) each way could be the safest way to go if overnight we don't get significantly more rain than was forecast.
The Te Rapa surface never ceases to amaze in its ability to absorb rain and offer up reasonable footing.
That might be all Katie Lee needs to get over the top of a field that comprises horses who are still getting fit and others that might require pretty good footing to excel.
As much as Katie Lee would prefer good conditions she, more than most in this field, is a horse for all seasons type.
And co-trainer Debbie Rogerson has indicated the stable has the classy mare fitter to resume than as a 3-year-old last season.
Veteran Bulginbaah (No1) likes this race and likes Te Rapa. He belies his age and on his run under 59kg in a handicap at New Plymouth last start, will relish the weight-for-age conditions. Unquestionably he is the one to beat. The absolute blow-out for a place and to make a decent trifecta is All In Tempo (No9). He has almost no 1200m form, but he's very underrated and will go a big race fresh.
Leonucasam (No5, R1) looked smart in just two starts in mid-summer.
She hasn't raced since January and hasn't raced on a rain-affected surface, but she is by Captain Rio and many of them are okay in the wet. The McCrae/Newham stable can get them ready for a big first-up effort and she might give the first race a shake. Sweet Diamond (No1) will be fitter for his two career runs in the last six weeks.
Tudor Bubble (No2, R2) is also engaged for Otaki tomorrow and indications were she would race there. If that's the case Nicole Amy (No8) is the top tip for the second. She loves Te Rapa - two of her four career wins have been achieved here - and her close fourth at Otaki, when she hadn't raced for a couple of months, should have her fit for this. She seems to like loose, wet conditions and could well end up with them.
Montjee (No2, R3) has had five Te Rapa starts for zip, probably because he loves the deepest, heaviest conditions, which you don't get at Te Rapa these days. However, you can make a case against most of those he faces today and on the basis he was only 2.5 lengths off winner Herman Munster in the Taumarunui Cup on a track similar to the one he'll face today, he's probably reasonably placed to correct his Te Rapa duffer status.
Race 4 is tricky, but on the basis that Affairoftheheart (No12) will be very fit after a couple of runs in July she should prove difficult to manage today. She was a bit unlucky in both those latest two runs.
Dancing Chief (No2, R5) comes back to left-handed racing and can add to his two career wins at Te Rapa. It wasn't a bad run when second at Ruakaka last week and remaining in R80 grade gives him a chance here.
Winning Genes (No5) and Kirra Surf (No9) are winning hopes.
Show Up (No9, R7) is smart and will produce a big run fresh from a break. This is a very good betting race loaded with chances, but an each-way on Show Up with the resolution to follow her for a few starts will reap dividends. If Lion Tamer (No3) doesn't make it off the ballot in the Foxbridge Plate he will start here and be hard to beat.
He displayed plenty of class in winning three of his five starts as a juvenile in the old season and should have a big spring. Queen Sabeel (No5) and One Swanstonstreet (No14) are chances in one of the best races all day.
Anything could win Race 8 so why not go for a bit of a price and you could do worse than Society Syd (No1). He's dropping back to R70 from R80 and Maija Vance will pull 2kg off his 59kg. He runs some of his best races at Te Rapa and the conditions will suit. He's as good as any in a very even field.
A couple of things went wrong for Saint Peter (No4, R9) at Pukekohe last week. His hind legs slipped from under him when leading around the 600m then he appeared to get lost when left in front up the home straight. He was gawking at the steeplechase fences when he was wide in the home straight and it was no surprise he was beaten by a locally trained mare who raced like she knew every blade of grass on the course. He should be better suited today. The wide barrier looks awful on paper, but there is a long run down the Te Rapa back straight from the 1600m start and he has the tactical speed to get across. Mr Clooney (No2) is close to a win.
If you're looking to "get out" in the last you're facing a tough task - no standouts here. Yangming (No2, R10) won well enough on this track last start to warrant a chance again in a slightly tougher field and Ted'll Do (No6) raced so far below his best at Ruakaka last week you almost have to forget the run. He's up to being in this. Watch My Step (No1) doesn't win out of turn, but most of his form has been on this track.
The Grand National at Riccarton? Well, it's a Mark Oulaghan benefit with perhaps Yourtheman proving that he only had to jump the last well to beat stablemate Counter Punch in the lead-up Koral Steeples last week.
And don't forget that Conchord (No8, R3) was luckless at Riccarton last Saturday. Be careful at Riccarton though - that track will come up diabolically heavy.