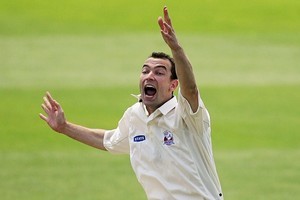 Comeback kid Andy McKay is not letting the demanding sub-continent conditions hamper his quest for pure pace.
The left-arm fast bowler, recalled to the Black Caps after a foot injury curtailed a promising international start, says speed remains his key focus.
"If you can run in with an extra 5km/h, it is definitely going to be more challenging for the batsman. So that is what I look to do.
"I need to stay aggressive in my bowling and keep running in hard. I feel as if I am a genuine wicket-taker in the side and that is why I have been picked, with the extra pace."
McKay impressed in his debut against Bangladesh in February, regularly sending down deliveries of over 140km/h and taking five wickets in the three-match ODI series. But the 30-year-old conceded bowling in the searing heat of Sri Lanka willbe an altogether different proposition.
"Until you experience it, you don't know what it is like. The boys were all pretty well cooked after the game," he said of the opening tour win against the Sri Lanka Presidents XI on Wednesday, where he picked up 2-38 from 10 tidy overs.
"There is no point in running in and bowling flat tack but not putting it in the right areas - doesn't matter how quick you are, these guys will put you to the boundary more often than not."
McKay, who has recently taken on Sir Richard Hadlee as his mentor, says the stress fracture in his foot has been fully healed for three months, and he is ready for the "huge challenge" of facing Sri Lanka and India.
With the absence of some big bowling names through retirement or injury the Wellington paceman looms, alongside Tim Southee and Kyle Mills, as the wicket-taking spearhead, a role he seems comfortable with.
"It is a case of knowing your job in the side and performing it to the best of your ability. I feel I have a lot of improvement in me, I want to progress well up until the World Cup next year and hopefully forge a good career over the next four or five seasons or so."
There has been criticism of the Black Caps' desire in recent seasons but McKay says they are working on their killer instinct: "We are striving to be a very ruthless cricket team. We have had a plan in place since the Twenty20 World Cup which builds up to the World Cup next year and we are progressing very well with that plan."
Security in Colombo is as tight as would be expected and, apart from the occasional scheduled team shopping or sightseeing trip, the players are strictly confined to their hotel.
The team social club, run by Jacob Oram and Grant Elliot, have been busy organising plenty of activities, including "bloody competitive" quiz nights, to while away the time.
The tour
* India vs New Zealand at Dambulla, August 10.
* Sri Lanka vs New Zealand at Dambulla, August 13.
* Sri Lanka vs India at Dambulla, August 16.
* Sri Lanka vs New Zealand at Dambulla, August 19.
* Sri Lanka vs India at Dambulla, August 22.
* Final: August 28.