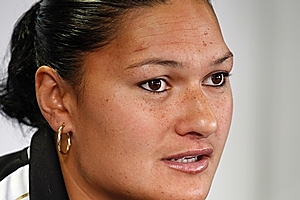 Champion Kiwi shot putter Valerie Vili may have changed coaches, but she hasn't managed to dominate the sport this year as she has in the past.
Belarussian Nadezdha Ostapchuk underlined her recent superiority over the New Zealander with an emphatic win at the Diamond League athletics meeting in Stockholm early today.
It was the fifth time on end Vili, the world and Olympic champion, has lost to Ostapchuk this season.
The Belarussian's 20.63m was almost a metre clear of Vili's 19.79m, while Ostapchuk's compatriot, Natallia Mikhnevich, took third with 19.57m.
Ostapchuk recorded only three legal throws from her six attempts, but each was over 20 metres, with her fourth-round throw proving the winner.
In contrast, Vili was consistent in recording six legal throws, but none were over 20 metres.
Ostapchuk currently tops the Diamond League points table, her 16 well clear of second-placed Vili's 12.
She ended Vili's 2-1/2-year winning streak at the world indoor championships at Qatar in March, and hasn't looked back since.
Vili parted ways with long-term mentor Kirsten Hellier in April this year, and is rebuilding form under new coach Didier Poppe.
- NZPA