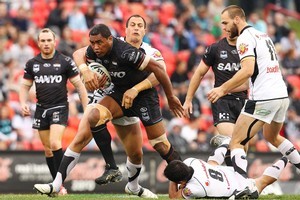 The Warriors' season isn't hanging by a thread. It's being held together by strips of EAB. That's elastic adhesive bandage, for the uninitiated. Black tape, to those who like to keep things simple.
Whatever you call it, the curious strapping on the back of Manu Vatuvei and Simon Mannering's legs has been doing its job.
Since adopting what is known as the kinesiology method of strapping, the star pair's hamstrings have remained twinge free.
Before the tape's use, both players experienced recurring hamstring issues. Mannering tore his pre-season and then again in round two against the Broncos, ruling him out of action for months. Vatuvei's hamstring also went against the Broncos. It wasn't as serious as Mannering's, but it was still bad enough for him to break down on his return against the Bulldogs in round five.
The next time both players reappeared, kinesiology taping ran the length of their hamstrings. Not only is it eyecatching, it's obviously highly effective.
Or is it?
"I'm the last person you want to talk to about that, I'm very cynical about it," says club doctor John Mayhew.
Questions about the tape should be directed to the club's medical services manager, Jude Spiers, said Mayhew.
Surely Spiers will be a big fan of the method?
"I'd prefer not to answer that in a public forum," he says.
Oh dear. Finding a fan of kinesiology strapping is proving a bit tough.
Let's try that big bloke in the corner with the gold teeth.
"I think it works but everyone has their own opinion about it," says Vatuvei.
The strapping, it turns out, was actually the big winger's idea.
"I used to strap my leg with tape that went right around my whole leg. With this tape it is just one strip and that is it. It feels really good because you don't really recognise the tape is on you. It takes the stress out of your muscles and stuff."
When Vatuvei approached the club's medical staff suggesting the strapping, the key question they asked was: would it do any harm?
The answer was a unanimous no. But does it actually do any good?
"The jury is still very much out," says Spiers. "It has an element of biological plausibility, so to speak. Most importantly the players are feeling good using it and there is no reason why we can't use it. There are no risks involved.
"It doesn't do anything miraculous or new but the boys were feeling they were getting a benefit from it, so we trialled it and we kept on going."
Introduced in the 1970s, kinesiology taping is far from new. It faded out of vogue for a while but then came back on the scene at the last Olympic Games in Beijing.
The concept is that the tape helps to send a message to the brain - say, that a particular muscle is tight - and the brain then tells the muscle to relax. Few scientific studies have been undertaken into its efficacy, and those that have been done have produced differing and debatable results.
Mayhew is particularly unimpressed, believing it fits into the same category as the Nasal tapes that were supposed to aid breathing a few years back and the holographic power balance wrist bands that have recently appeared on the scene.
"If you are around sports medicine long enough you see these fads come in," says Mayhew.
"I haven't seen any objective data to show that [kinesiology] is beneficial but I haven't seen anything to show it does any harm. If the players believe it works that's fine."
And that seems to be the point. The players do believe it.
Whether that's because it actually works or is due to the placebo effect - where people given dummy medicines still feel better purely because they have been told they will - is a matter of debate.
"Any medicinal or therapeutic intervention will have an element of placebo effect or psychological benefit," says Spiers.
"And you could argue that at our level most of the differences between the teams is in the top three inches."
For Warriors' fans the bottom line is that Mannering and Vatuvei are both fully fit and raring to go.
As long as that remains the case, they can strap themselves up however they damn well like.
KINESIOLOGY
From the Greek words kinesis (movement) and kinein (to move), also known as human kinetics, is the science of human movement. A kinesiological approach applies science-based medical principles to the analysis, preservation and enhancement of human movement in all settings and populations. (Wikipedia)