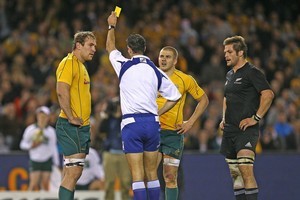 Exasperated Wallaby skipper Rocky Elsom opened his verbal stopcock at referee Craig Joubert before halftime in last week's test in Melbourne.
"If that's not spoiling the game," Elsom railed after the All Blacks conceded a double penalty near their posts.
Elsom was frustrated, his team was battling to hang on to a game after a torrid start. They had been helped when the All Blacks lost Owen Franks to the sinbin but that numerical advantage had been balanced when Drew Mitchell got his marching orders.
The Wallaby wing was sent to the sinbin for a shoulder charge, on what later turned out to be incorrect advice from assistant referee Cobus Wessels.
It was a continuation of the yellow card fever which has invaded or infected the Tri-Nations, depending on your viewpoint.
Graham Henry likes the crackdown, IRB referees boss Paddy O'Brien has no problems as long as his men make strong, accurate decisions while the Boks are bleating.
They have had the most men in the bin and Bakkies Botha, Jean de Villiers and Jacque Fourie banned at subsequent judicial hearings.
In four Tri-Nations matches, the longest wait before someone got the cool down message was last week in Melbourne when Owen Franks was carded after 21 minutes.
The week before in Brisbane, Fourie was dispatched inside two minutes, Danie Rossouw walked in Wellington after five minutes while Botha had 13 minutes action in Auckland before he went to the naughty chair.
Will we get past halftime tomorrow before referee Jonathan Kaplan sends an All Black or Wallaby for a rest? You wouldn't bet against it, not on this year's evidence.
The rising trend does not trouble O'Brien. He is adamant there is no edict urging his referees to crack down on even marginal play, just an encouragement to officiate strongly.
He points out the game is far better for the rule tweaks and his officials intend to police the laws and deal with miscreants who flout them.
"We are not the ones breaking the laws," he says, "we are administering them and it is up to the players to control themselves."
He accepted Botha, Franks and Mitchell had been harshly dealt to but there were other cases where referees could have been stronger.
Sometimes it was difficult for a referee or his assistants to make a judgment on a split-second action because their view may have been obscured.
Since sinbin penalties were introduced to test matches in 2000, the Springboks have bounced to an unwanted lead in the team and individual sections.
The Boks have incurred 70 yellow cards and flanker Schalk Burger has picked up six of those.
Out of the leading 10 test playing nations, the All Blacks are placed sixth in the list with 37 sinbin offences for 28 players with prop Kees Meeuws binned three times.
A total of 555 players have seen the referee raise the yellow card for their timeout spell.
If the Tri-Nations trend continues, there may be some spectators reviewing the value of attending tests live. Tickets are not cheap and some will argue lopsided numerical contests are not worth the dosh.
All Black coach Graham Henry can understand that viewpoint but he applauds the crackdown and the way Joubert ruled last week in Melbourne.
"By having a strict line you have a good game of rugby," Henry argued.
He urged officials to be especially vigilant at the tackled ball zone where the game could get messy when players left their feet.
Henry agreed the game would be even better if there was greater scrutiny on players cribbing the offside line at rucks and mauls.
However he had been heartened by progress in the style of game and the way referees were adjudicating in the last six months.
O'Brien, too. The game had changed enormously and there had been similar advances for his men wielding the modern Acme Thunderers. The heat was also on their assistants to up their game. "They have a huge role. They have full rights to assist and we are encouraging them to work through that," said O'Brien.
Improved teamwork from four match officials (ref, touchies and TMO) would help the rhythm in matches and the confidence of the players and officials.
THE CARD PACK
YELLOWS
* South Africa: 70 (Schalk Burger, 6)
* Italy: 61
* Australia: 44
* New Zealand: 37
REDS
* Italy: 10
* France: 9
* South Africa: 7
* New Zealand: 2 (Cyril Brownlie, 1925, Colin Meads, 1967)
* Australia: 2
* Scotland: 2