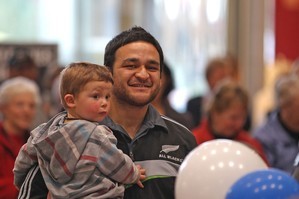 Too late for the Wallabies and Drew Mitchell but the International Rugby Board has apologised for the wing being sent off in last week's Bledisloe Cup match.
Mitchell was ordered off for his second offence soon after halftime in Melbourne as the All Blacks careered on to a 49-28 victory.
After a review of the test, the IRB confirmed assistant referee Cobus Wessels "got it wrong" when he called Mitchell for an illegal tackle and his first yellow card.
Wessels has been demoted to television match official for Saturday's next Bledisloe in Christchurch and Kiwi Keith Brown has been chosen as a replacement assistant referee.
"We have got to be upfront about these things," said IRB referees boss Paddy O'Brien.
"We can understand referees missing things but he saw something that didn't happen. He has got to get himself sorted.
"That had a major effect on the game. All we are saying is that referees need to be accountable."
When Mitchell was first sinbinned on Wessel's recommendation, the Wallabies were trailing 22-14. When he returned they were down 32-14.
O'Brien said different footage showed Mitchell put his hands up to avoid a collision with Richie McCaw.
"It shows it was not a yellow card and that had a major impact on the game," said O'Brien.
O'Brien accepted that several other yellow cards issued during the Tri-Nations series had been "soft" judgments.
"I can't deny that," he said. "Allwe want is for our referees to be accurate.
"We are not concerned about the number or comments about referees being too pedantic or toostrict.
"But we have to be careful they are genuine yellow card offences."
O'Brien denied his officials were under instructions to get tough during the Tri-Nations.
But they had been reminded to be extra vigilant and appeared to be getting on top of the contentious tackle ball area.
He was not in favour of players being sinbinned multiple times for technical rather than violent fouls.
"No, I think that would just encourage a cheat's charter. Besides, why should these issues be the referees' problem?
"The players are the ones who do the infringing."
He felt referees were improving just as the game had changed with an average of 80 kicks in Tri-Nations tests last year while there were only 18 kicks in the Melbourne match.
Sanzar approved Brown's appointment because it recognised the logistical issues of selecting a neutral official.
* Sonny Bill Williams officially enters the consciousness of the All Black coaches this weekend, the first of numerous recuperating stars hoping to shoehorn a place in the crack New Zealand backline.
Assistant coach Wayne Smith will trek to his old club ground of Sheldon Park on the outskirts of Christchurch on Saturday afternoon to watch former league star Williams play his first game of rugby for Belfast in New Zealand since choosing to chase an All Black jersey.
Smith downplayed his own movements, insisting he would have gone to watch his beloved club team play anyway.
"They're dear to my heart," he said.
"Sonny's presence will add a bit of spice to the occasion, they're picking pretty big bar takings afterwards."
The former Kiwis second-rower has recovered from minor knee surgery in June and could yet play against Manawatu in a national provincial championship match at Palmerston North tonight if Canterbury suffer further injuries to their depleted backline.
Either way, Williams falls into the sizeable group of high-quality backs trying to force their way into the white-hot All Black squad to tour Hong Kong and Europe later this year.
An obvious midfield candidate is Richard Kahui, due to return from a shoulder problem this month, while it was put to Smith that injured outside backs Isaia Toeava (hip) and winger Sitiveni Sivivatu (shoulder) would thrive in New Zealand's increased focus on speed and width.
"There's probably some nervous players sitting around the country who are world-class players and would be dying to get into this team, particularly the way it's playing at the moment," Smith said.
"We all know what those two players can do so it will be an interesting time for the selectors."
Toeava is expected to play a role in Auckland's national provincial championship campaign but Waikato winger Sivivatu's recovery will continue through the domestic competition and see him miss the All Blacks' tour.
- ADDITIONAL REPORTING: NZPA