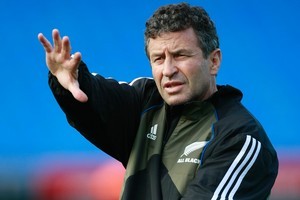 While rugby devotees in New Zealand are daring to join the dots to the next World Cup, the All Blacks and their coaches have their focus purely on Saturday in Christchurch.
That next-game philosophy has become a cornerstone for this side who can collect the Tri-Nations-Bledisloe Cup double with victory against the Wallabies.
Wrapped round that concentration is a "killer instinct" assistant coach Wayne Smith believes courses through the squad. He accepts that previous World Cup results suggest otherwise but those were not the only massive tests the All Blacks played.
"There is massive expectation all the time. I think we have it, we are developing it and it is something we talk about, often," he said.
The side had been involved in massive matches in the past few years. The first test in 2008 against Ireland after the panel was reappointed was huge. The scrutiny was exhaustive.
This year it was all about how they would respond to the three defeats to the Springboks.
"They were going to be too good for us, too good in the Super 14, too big, too athletic, how were we going to be?
"And they are massive tests of your character," Smith added.
The coaches, management and players dealt with that pressure in a variety of ways. As a group they learned about performing under stress and how they could get better.
There was no solitary formula. Each week they gathered new insights and, with time, those experiences counted.
That was why, Smith chuckled, it was important to keep the current All Black coaches on for some time.
He and his mates, Graham Henry and Steve Hansen, can amuse themselves, in private, at the pain they are putting former All Black aspirant Robbie Deans through with the Wallabies.
But they are on notice each time the All Blacks kit up. And the World Cup is only a dozen tests away from kickoff.
The All Blacks have snapped into the Tri-Nations with fresh vigour and a devastating style but Smith thought that gap would close pretty quickly.
"It is like sharing an idea. If I share an idea with you in a business that we are competitors in, as soon as I walk out the door I have to come up with a new idea and that is what we have to do.
"We have got to stay on top of the trends in the game and we did pretty well during the Super 14 to have plans that are continuing to grow."
The All Black panel looked at plans for each block of tests this season to sort out the emphasis and detail.
"But we do not know where the game is going to evolve over the next 12 months," Smith added.
There were many different ways to prepare for a World Cup and none had proven to be better than the other. There was no trend to say there was one method for teams to use.
Next year's Super 15 might throw up new coaching ideas about defence or kicking strategies.
That series was the All Black coaches' chance to learn from those at the coalface and also to offer ideas. It was important all New Zealand sides played differently, and the All Black panel hoped to cherry-pick ideas from those.
Selecting was a key to the job. Sometimes players such as Richard Kahui were picked on instinct. He was without Super rugby form but the panel knew he was class. There could be varied reasons why players did not hit form and sometimes only the coaches knew.
Smith has been coaching at the top level since he was a player-coach in Italy in 1986. At that stage, he admits, he was a real rookie.
Since then he has stacked up the knowledge. He thinks the All Blacks' current attacking style may be out of date by the next World Cup but knows that defence is even more critical in major tournaments.
"Whether that defence can be aligned to attack, I expect it will be, the best defences tend to get the best opportunities from turnovers and fractured ball," he said.
"Just how it looks under those pressure situations we do not know."
The Wallabies might be scarred at the moment but that did not rule them out of this week or the World Cup.
"Every game is its own entity and anything can happen and what went before is irrelevant.
"Three losses to the Boks did not scar us. We developed.
"Past success guarantees nothing, you have just got to keep working at it, try and keep an edge, build every game like it is the last one and that is what we try and do."