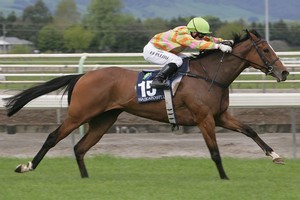 Waikato jockey Mark du Plessis Waikato jockey Mark du Plessis is not sure who will be breathing harder after his two rides at Te Rapa this morning - him or mounts Red Ruler and St Germaine.
The John Sargent-trained Foxbridge Plate entries are taking advantage of an invitation to use the course proper as compensation for missing their Te Teko trials, which were abandoned this week because of atrocious weather.
Du Plessis said he's had a relaxing fortnight catching up with family and playing golf since returning from a successful two month Hong Kong stint. Wins overseas included a career-highlight aboard the Hong Kong galloper Green Birdie in the KrisFlyer International Sprint in Singapore, Du Plessis's first international group one.
But the holiday is over for Du Plessis from this Saturday when he kicks off the march toward a premiership title with a handful of Riccarton mounts, including topweight Elblitzem in the $100,000 Winter Cup.
With Sargent establishing a satellite base in Christchurch this season and several stable stars primed for Aussie riches, it's shaping as Du Plessis' busiest - and, with luck, his most rewarding - New Zealand season yet.
Despite a clipped assault last term, the Zimbabwe-born 34-year-old still finished third in the jockeys' race and top of the black type rankings with 13 group or listed victories.
Du Plessis has a stack of potential headline mounts waiting in the wings for his 2010/11 campaign, with Waikato Cup winner Passchendaele an obvious favourite. Early progress reports since surgery to insert screws into the base of her cannon bone are encouraging, said Du Plessis.
The exciting stayer suffered a hairline fracture after her final gallop in preparation for the Auckland Cup in which she would have jumped a hot favourite.
"Apparently, she's back in the paddock now and putting more and more weight down on her leg," said Du Plessis.
"Hopefully, it's a blessing in disguise that she's had all this time off; she can only come back stronger."
If her leg holds up, Sargent is hoping to have Passchendaele peaking again next autumn for races such as the Queen Elizabeth Stakes in Sydney, or the Auckland Cup at Ellerslie in March.
Sargent is rapt with what he's seen of the lightly-tried 5-year-old mare so far and is expecting her back in the stable in a couple of months.
"Looking at her leg you'd never know she'd had the operation at all - it's probably stronger than her other back leg," he said. Meanwhile, Red Ruler leads Ladbrook Park's new-season assault across the Tasman.
Sargent said last season's Wellington Cup winner will have only the one New Zealand run, in the group three Foxbridge Plate (1200m) at Te Rapa on Saturday week, before heading to Melbourne for a cups' campaign.
With the benefit of today's 1000m solo gallop at Te Rapa, Sargent expects St Germaine and Du Plessis to be the toughest to beat in the Foxbridge, particularly on a rain-affected track.
The 4-year-old's main early season target is the group one $250,000 Mudgway Partsworld Stakes (1400m) at Hastings on August 29.
St Germaine and Du Plessis won the Gold Trail Stakes (1200m) second-up on the course last season.
"With this gallop [at Te Rapa] and the run under her belt she should be hard to beat in the Mudgway," said Sargent.