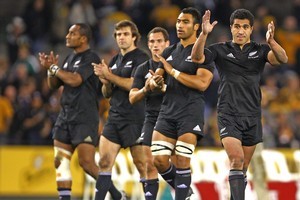 I was lucky enough to be in Melbourne last week.
I have spent quite a lot of time there in the past and it is a city I really like, in part because of its great sporting culture.
My recent trip was to meet with Cricket Australia, with our discussions centred on resolving the ICC vice-president nomination as well as preliminary planning for our co-hosting of the Cricket World Cup in 2015.
I was very fortunate to be invited to attend both the All Black test match against the Wallabies at Etihad Stadium and an AFL game at the MCG (between Collingwood and Carlton) while I was there.
These two sporting events highlighted a few things to me.
Firstly, Melbourne is blessed with great sporting stadiums. The MCG and Etihad Stadium are both world-class facilities for watching sport. Both are located centrally to the city and access in and out for spectators - either by car or public transport - is brilliant.
The viewing experience for fans at both grounds is outstanding, with Etihad's roof adding an extra layer of benefit to what is already an excellent facility.
I was also fascinated to watch my first live game of AFL. It is a very different (and better) game seen live as opposed to on television.
Aussie Rules is experiencing a huge surge in popularity in Australia and the sport dominates the media (especially in Melbourne), overwhelming rugby union, rugby league and soccer.
I can't comment on the nuances of the game (apart from noting the players do an awful lot of running) but it was obvious the crowd loved the occasion, with a great mix of young and old, men and women, and lots of families attending. And although the action on the playing field was fierce, the atmosphere in the crowd was sporting and friendly.
Unfortunately, the same could not be said for the All Blacks test at Etihad Stadium.
I am a huge All Blacks fan - and a very proud Kiwi. The All Blacks did the country proud on Saturday evening, playing a great style of rugby at great pace, and they deserve all the praise they get for their performance.
But I was frankly embarrassed to be a New Zealander there that night, surrounded as I was by a good number of drunk, aggressive and obnoxious All Black supporters.
This may have just been bad luck - sitting next to the wrong people in the wrong part of the stadium - but I don't think this was the case.
From what I saw, a portion of the New Zealand contingent at the game were focused on consuming vast quantities of alcohol as rapidly as possible, as well as baiting and abusing Australian spectators (or people they suspected of being Australian).
My Australian hosts were obviously uncomfortable (as was I) with the profanity-laden and alcohol-fuelled antics of some of my countrymen, which created a tense and unfriendly atmosphere.
It detracted from the event and made me relieved to be able to get up and leave when the final whistle blew.
This was a real shame considering the quality of rugby on display.
During the evening I was introduced to a senior representative from Etihad Stadium who commented that sales of alcohol were much more than expected and much more than was usual at other sporting events at the stadium - and the main reason appeared to be the drinking of the All Blacks' fans.
Without wanting to be a killjoy, the behaviour of some New Zealanders on Saturday night in Melbourne was appalling.
And although I am sure they were in the vast minority, such behaviour has the potential to affect the reputation of our country, especially when we host fans from all parts of the globe during the Rugby World Cup next year and then again at the Cricket World Cup in 2015.
Most visiting supporters would not enjoy being on the receiving end of such rude and intimidating behaviour and I imagine foreign media would also take a dim view and feel encouraged to draw broader conclusions about our country and national psyche.
This type of crowd behaviour is by no means limited to rugby test matches. I'll be the first to acknowledge that cricket has had its issues, as have several other sports.
The combination of alcohol, hormones and tribal devotion (with a smidgen of xenophobia mixed in) can produce an incendiary and hostile cocktail.
A responsible and mature attitude to drinking is a sign of a grown-up country, as is a tolerant and welcoming attitude to "outsiders". I look at my experience from Saturday night and feel we need to grow up a little.
I am all for people enjoying a few drinks when attending their favourite sporting event, but it is deplorable when overindulgence overflows into aggressive, boorish behaviour with opposition spectators in the crosshairs. Sport deserves better.
Etihad Stadium at the weekend was a far cry from the many really positive experiences I have had at sporting events as a player, fan and administrator. A good-natured, sporting and noisy crowd is an exhilarating and hugely entertaining spectacle.
The reasons for such unpleasant behaviour may be complex and far broader than sport, but it is time for the leaders of our country - political, sporting, corporate, media and educational - to be open about the issue and start looking hard for solutions.
* This piece represents my own opinion and does not reflect the policy or position of New Zealand Cricket.
Justin Vaughan is chief executive of New Zealand Cricket.
ON THE WEB

www.blackcaps.co.nz
http://justinvaughan.tumblr.com