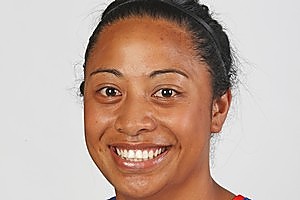 Former Silver Fern Linda Vagana believes the import rules in the transtasman league are hurting smaller netball nations.
Vagana, now the coach of Samoa, has had a frustrating time trying to rustle together a competitive team to take on the Silver Ferns in Porirua this Saturday.
Young New Zealand-based players with Samoan heritage are turning down the opportunity to play for Samoa as it means not only giving up their dreams of playing for the Silver Ferns, but also jeopardising their chances of obtaining an ANZ Championship contract.
Northern Mystics defender Finau Pulu is the latest player to decline the opportunity to play international netball for fear it will affect her chances to play in the transtasman league, which is effectively her livelihood.
Pulu was originally named in the squad to play the Ferns this weekend, but later withdrew on advice that should she debut for Samoa it would put her future with the Mystics in jeopardy.
If Pulu were to play for Samoa she would then be considered as an import in the league and with teams guaranteed only one ineligible player on their books, she would likely miss out on a contract to top-name internationals. Vagana said Pulu's situation is typical of a number of New Zealand-based players and it is proving detrimental to the development of Samoan netball.
"Finau is in a position where ANZ is a priority for her and if she chooses Samoa it puts her in a limited space where she will be considered an import and measured against all the other international players," said Vagana.
"It's really tough on the girls when they have to make decisions like that because it is something that will affect their entire future in the sport."
In the days of the old domestic league, Samoan officials would scour National Bank Cup teams to find players with (sometimes tenuous) Samoan links to help bolster the experience in their side.
But the introduction of the transtasman competition resulted in new rules being introduced, whereby any player who was ineligible to represent the Ferns was considered an import regardless of their citizenship status.
Vagana said the rules hurt the small Pacific Island nations as it discourages players from wanting to represent them. It also means her players don't get the exposure to the highly competitive league.
Of her current crop of players, only captain Frances Solia plays in the ANZ Championship.
"It's hugely frustrating because it doesn't allow flexibility for players to be exposed to top-level competition and gain that experience. I don't believe that netball will ever grow internationally because it's only the top nations that have these opportunities."
Vagana said she understands it is not Netball New Zealand's prerogative to help develop Samoan netball, but she said they have a responsibility to ensure the health of the international game.
"Obviously Netball New Zealand would like every player available for selection for the Silver Ferns and they need to keep those pathways open for their players, so I understand their dilemma as well."