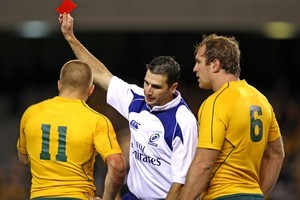 All Black coach Graham Henry approves of referees' hardline approach in the Tri-Nations series.
He also agrees they may have to pull back a shade or spectators might reconsider buying tickets for fear of seeing uneven numerical contests.
"I guess that is a point because it has been a major headline point throughout the Tri-Nations," the All Black coach said.
Players have been put in the bin or sent off in each of the four tests between the All Blacks, Wallabies and Springboks.
Bakkies Botha, Danie Rossouw, Jaques Fourie, Quade Cooper, Drew Mitchell and Owen Franks have all been binned, while Mitchell has been sent off for a double offence and Botha, Jean de Villiers and Cooper cited and suspended for those or other misdemeanours.
Some, such as Rossouw and Mitchell, did little wrong, while there have been a number of other culprits who have escaped punishment.
But Henry admires the crackdown and the way Craig Joubert ruled the last test in Melbourne.
"By having a strict line you have a good game of rugby," he argued yesterday. "If you are grey and you allow the contest at the tackle where the tackler is interfering with the ball, and guys are off their feet and it is not adjudicated, you get a mess.
"It is not a good game to watch, it is not a good game to play so I'm fully in favour of them being very strict."
Henry conceded officials might have got a fraction punitive, as they did at the start of the year with the changes in tackled ball interpretations.
People were starting to complain and Henry felt the officials would probably ease up soon and the correct balance would return to the international game.
Franks' yellow card showed how he needed to refine his tackle technique while some dismissals, like that of Rossouw, were "unfortunate" though the intent was there.
When the Herald suggested there were greater problem areas such as offside at rucks which should merit punishment for professional fouls, Henry agreed. He felt referees struggled at times to see the broader landscape in a test but they also had assistants who could be monitoring those areas.
"I'm not saying they're blind but they can't see that big picture when they are looking at the little picture," Henry said of referees. "I think the major weakness now, is people getting in front of the hindmost feet.
"If we keep people back that will be a better game but what they're trying to do is they have a major focus on the tackle and breakdown area, a major focus on guys not getting in front of the kickers, scrums staying up and being square."
Henry had been baffled by a few calls in Melbourne where the All Blacks were brought back for crooked lineout throws when he saw nothing wrong.
That was frustrating but refereeing was an awkward and demanding job.
"But I am pleased they are progressing in a positive way because I was really concerned about the standard of refereeing six months ago.
"This season, I think it has been pretty high so far."