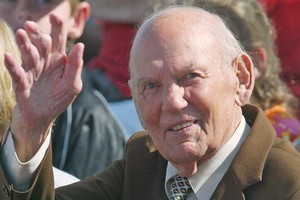 Eric Tindill's great-nephew Elliot Lodge pays homage to the man who was arguably New Zealand's greatest ever double international:
On the morning after a scintillating All Black triumph, the nation lost one of its great sporting heroes, and undoubted icon, in Eric William Thomas Tindill.
Eric lived an admirable life and his longevity has been well-documented but, at the ripe old age of 99, he has sadly passed away.
Tindill's story is much more than the history books will ever say as he was a man of great loyalty and passion for the things and people he loved.
His life, though, was mixed with tragedy beyond the fields of the Basin Reserve and Athletic Park, two grounds with which he held strong affiliations.
His list of achievements is truly endless. Most prominently he is credited with being in a distinguished band of seven 'double All Blacks', those who have represented New Zealand at cricket and rugby.
Tindill however is the only one of this elite group to have played both sports at test level.
In rugby, Tindill was primarily a halfback, but could also more than adequately fill in at first five-eighth. He served the Wellington side with great pride and was eventually noticed by the All Black selectors. Although he played just the one rugby test for New Zealand - on the tour to England in 1936 - he featured in 16 matches in all for the All Blacks, kicking five dropped goals in the process.
Like many of his era, his All Black career was, in all likelihood, affected by the outbreak of World War II. Famed New Zealand radio rugby commentator Winston McCarthy is reported to have said that Tindill was likely to have toured South Africa with the All Blacks in 1940 if it had gone ahead.
Tindill donned the wicket-keeping gloves in a prosperous cricketing career, and was no mug with the willow either. As with his time in rugby, Tindill's cricket career was arguably interrupted by the happenings in Europe at the time.
Nonetheless he had a distinguished career for Wellington, a city of which he was a proud resident. In a first-class career which spanned almost 16 years, Tindill played 69 matches, amassing over 3000 runs at a very respectable average of 30.35, and scoring 6 centuries along the way.
He was first selected on the tour to England in 1937, in which he played 3 tests, gracing famed grounds such as Old Trafford, The Oval and, the home of cricket, Lords. At the age of 36, Tindill returned to the side, playing in two post-war home test matches against England and Australia in 1947. In his test career, as a wicket keeper, he took 6 catches and effected a stumping.
However, one of the most interesting episodes in his cricket whites was perhaps away from the test arena. The New Zealanders stopped over in Adelaide, en route to Britain, to take on South Australia - the only time they played a side featuring the great Sir Donald Bradman. In the first over of play on the Saturday, Tindill caught Bradman for just 11 off the bowling of Jack Cowie. A huge crowd had packed the Adelaide Oval but were left disappointed.
The tale continues beyond his illustrious playing days. Tindill distinguished himself as an officiator, umpiring both cricket and rugby at the top level. He refereed two of the touring Lions' Tests against the All Blacks in 1950 and also controlled the second All Black test against the Wallabies in 1955. Remarkably, he then went on to umpire a cricket test between New Zealand and England in 1959!
He also continued to serve the sporting community. He was a selector for Wellington and New Zealand cricket and was, for many years, secretary of the Wellington Cricket Association. Eric also had a passion for other sports, notably boxing and table tennis.
He remained close to Athletic Rugby Club - since amalgamated into the Western Suburbs Rugby Club, the club where this writer played in his younger years. As recently as a few years ago he attended old timers day at the Wests' clubrooms, catching up with some of his old pals.
The longevity of Tindill's life has been well publicised, especially since celebrating his 99th birthday last December. At the time of his passing, Eric was the oldest living test cricketer in the world and the oldest living All Black as well as being the only All Black alive to have played in the pre-war period. These records sadly have come to an end. However, he remains the oldest test cricketer ever, a record he reached in November 2009, surpassing Englishman Francis MacKinnon.
His life's sporting achievements were however intertwined with personal tragedy, losing both his wife and one of his four sons in accidents. One of his remaining sons, Paul, also went on to represent Wellington.
To this writer he was a dear relative, a great-uncle to be exact. My family took immense pride in having a figure of his significance amongst us. Even though I only spent time with him on a few occasions, those times are memories I treasure. He lived in a modest residence in the suburbs of Wellington with his sole daughter, Molly. She provided great care to her father and was a lively presence, always welcoming us into their home, never letting us leave hungry.
A memory which sums up his character was when I was a young aspiring wicket-keeper and Eric, well into his 90s, got down on his haunches and demonstrated the technique required.
He would never boast of his accomplishments, but always recalled them with a smile on his face. I possess a couple of treasures to remember him by; a photo with him and his precious All Black cap and a couple of his old heavy bats - how technology has changed.
Eric Tindill lived a life worth living. He inspired me through the passion he showed for his sport but, more importantly, through his humility. Eric Thomas William Tindill will be remembered as a unique New Zealand sporting icon. May Uncle Eric rest in peace.