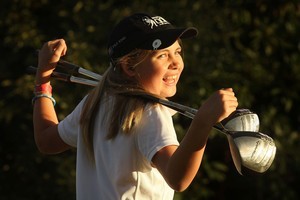 An 11-year-old Bay of Plenty girl has battled the odds to play her way into the elite of world golf for her age.
Tyla Kingi, from Opotiki, arrived home this week from San Diego, where she took on the world's best at the junior world golf championships.
Past winners include some of golf's biggest names such as Tiger Woods, Ernie Els, Phil Mickelson and Anthony Kim. Competitors make it into the event only after cut-throat qualifiers.
Tyla was the youngest girl in her age-group - and the shortest, by a head.
She had her dad, Tatai, in support; other girls had six trainers - a nutritionist, swing coach, hitting coach, mental coach, physical trainer and physiotherapist.
Some parents bellowed at their children after a poor round. Others had timed their child's birth to just a week after the annual tournament - so they could be the oldest child in the age group.
After a weeklong tournament in temperatures above 40C, the girl from Opotiki finished the world's 10th-best 11-year-old.
Yesterday, she was back playing at the Opotiki Golf Club - as she does every day until dark.
The town has been ranked by the Ministry of Social Development as the country's most deprived.
The unflappable young golfer said she just loved to come out to play.
"I like just getting out and just playing and learning new things every day."
When she was 3, Tyla sometimes followed dad around on his golf rounds, carrying a plastic toy club.
But she began playing regularly only four years ago. "I didn't immediately like it, but I started going once every week, then I would come out two times a week, and then I was playing every day. I started enjoying it more the more I came out," Tyla said.
Some young golfers in America have sponsorships, but Tyla's parents work hard to pay for her sport - new clubs, balls and travelling to tournaments - and it can be taxing.
Because she is little, Tyla gets clubs fitted for her, doubling the cost for her parents.
To get Tyla to San Diego, NZ Golf and all of Opotiki came together, with the local golf club hosting a tournament as a fundraiser.
"We couldn't have done it if it wasn't for them. We can't thank them enough," Mr Kingi said. "It can be expensive, but for her to do well makes the sacrifices worthwhile. It just shows it doesn't matter as long as you want it enough and you're having fun."
Tyla might now have opportunities to tour major junior tournaments, but Mr Kingi said school came first.
"Golf is a really mentally draining sport, and she's only 11 and needs balance in her life. So I keep things simple and just make sure she's happy before she goes out on the course."