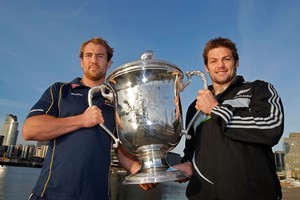 Mention the All Blacks and that other global tournament at your peril - their target is retaining the Bledisloe Cup and regaining the Tri-Nations this week.
In just six days, the All Blacks can claim both trophies in their return clash with the Wallabies and this season's dominance suggests they will collect the titles in Christchurch.
The All Blacks are ruling the Southern Hemisphere test scene with their layers of physical damage, complemented by an entire side which wants to challenge defenders in any part of the field.
It is a game-plan requiring high endurance, multi skills, confidence and imagination.
So far, the All Blacks have bolted through the Tri-Nations with their latest bonus-point 49-28 win against the Wallabies in Melbourne, setting up the tilt at the double silverware this Saturday. The team style is typified by Cory Jane, normally a fullback who has rewritten the play book as a right wing.
He scored a try when he outfoxed two defenders and set up another for Mils Muliaina after Brad Thorn broke tackles and Jane delivered a freakish centre kick.
"In this team if you're on the wing and you run out you get into trouble from the coaches so I just tried something," he said.
"Luckily, it came off. I'd had a bit of a fend, too, because I'm only a little bloke and I've got to do something."
Thorn was subbed after 55 minutes at Etihad Stadium after a bang on his hip but was certain he would be training early this week and ready for this week's battle with the Wallabies. He empathised with his old mentor Robbie Deans but would not be cutting him or his team any slack.
"He has got a tough trip back home. He is trying to achieve his stuff but I am trying to achieve mine, too.
"This is a chance to bury them and there is a trophy that we really love, as you know, and if we get this game it is ours for another year.
"And with the Tri-Nations we are playing in front of our people so that is pretty cool."
The World Cup was off Thorn's radar. The focus was this Tri-Nations segment of the test calendar, then the All Blacks would move on to their end-of-year tour.
He suspected the Wallabies had shown some effects from a hard opening test against the Springboks and had found it tough to back up again. It was the All Blacks' job to make that even more difficult in Christchurch.
"We have got some guys who are pretty special and some outstanding young guys coming through and there is a good feeling in New Zealand rugby."
This All Blacks squad had emerged from some troubles last season, had adapted to the law tweaks and was developing strongly.
The Wallabies were young and their best rugby was in the future. Coach Graham Henry and his team have emerged from some mixed work against Ireland and Wales in June with some emphatic, physical, high-paced, highly inventive and imaginative rugby in the Tri-Nations.
Opponents would improve as they understood the ramifications of the rule changes.
"It is only logical so we have not got a feeling we are ahead by a lot," Henry said.
"We just have to keep on improving and I think we can. I think that is what we need to aim at doing and stay ahead, if we are ahead, of the pack."