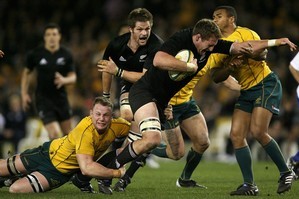 This was not the perfect All Blacks performance - and we won't know its true value until the World Cup next year.
But as an indicator of what is possible if your philosophy equates to attack over defence, if your mindset is to free the ball and run it as often as possible and you have the skills to complete that task, this latest demonstration of what the old game is actually capable of now that the law interpretations have been tweaked was more than adequate.
A harvest of seven tries at Melbourne's Etihad stadium on Saturday night means the All Blacks have now scored 15 tries in the Tri-Nations so far and conceded just five. They have adapted far more quickly and far more intelligently to the new law interpretations than any other side in world rugby.
They have stolen a march on their rivals and are playing a game beyond the capacity and understanding of any other rugby-playing nation.
Yet this advantage may not last forever. Was Graham Henry concerned that, despite his team's advantage at the moment, the gap might have closed by the time of the World Cup next year?
Old sores still itch, it would seem. "Do you mean have we peaked between World Cups again?" Henry retorted.
No, that wasn't what I meant.
But he did go on: "Sides will get better, we expect that. That is only logical that teams will play better with the new interpretations. So we don't feel we are ahead of the pack by a lot, if in fact we are."
It is undeniable they are. Now the challenge lies before Australia, South Africa and the teams of the Northern Hemisphere. But on the evidence of Auckland, Wellington, Brisbane and Melbourne these past four weeks, that challenge looks daunting.
Former Australian World Cup-winning coach Rod Macqueen had said in the week leading up to this test match that the Wallabies would know where they were at after this game.
He was right. They're nowhere. Well, that's not strictly true. They're all over the place.
The unforced errors made by this Australian side were at times scarcely credible from a professional team.
They seemed to have a deliberate policy of gifting New Zealand the ball at re-starts or kick-offs without the semblance of a challenge, so deep and aimless were the kicks. Maybe they wanted to test the All Blacks' ability to run the ball back at them. Well they got their answer - seven tries. That was fairly plain and conclusive.
But it wasn't only in the sheer common sense field that the All Blacks were overwhelmingly superior. They played the referee like a puppet master his marionettes and they had far greater innovation, invention and cunning. As for their decision-making, they were in another league.
There is a brisk, almost ruthless process of completing the task when the All Blacks have the ball in their hands in the opposition 22 that seems beyond the ken of any other side in the world.
And yet, Henry was right when he said that this wasn't New Zealand's best performance to date.
The accuracy of their execution against South Africa in Auckland was superior; likewise, their precision and timing.
That may seem crass criticism given they scored seven tries in Melbourne.
But three of them came against a 14-man Australian side and two of the others, Daniel Carter's try from a charged down kick and Richie McCaw's after Adam Ashley-Cooper had unwisely tried to run out of attack without sufficient support, were gifts from the Wallabies.
Australia were terrible, there was not a single thing about their game that measured up. Victory in Christchurch this Saturday must seem as lofty and intimidating a peak to climb as Mt Cook.
* Peter Bills is a rugby writer for Independent News & Media worldwide