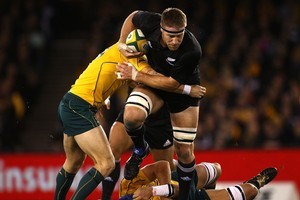 This was another very good All Blacks performance. What was especially pleasing was that it was a continuation of what they did in the first two tests against the Springboks.
The Wallabies posed different problems to South Africa and that was illustrated in the first two minutes when Matt Giteau picked out a mis-match in the All Blacks defence and set James O'Connor up for a great early opportunity.
But the All Blacks withstood the pressure throughout and maintained their accuracy and intensity. They played smart rugby.
People have been saying New Zealand are peaking too early again and we are going down the same road we do every time before a World Cup. But I don't buy into that at all. At the moment they are playing smarter, better rugby than anyone else.
This coaching team clearly identified problem areas after last season - the scrum, lineout, restarts, the aerial game that we were pretty average at - and they have worked hard on these areas.
They are doing these things very well now and players like Tom Donnelly have added that crucial edge that was missing 12 months ago. Both Franks brothers are also playing well and add something when they are on the field.
Messrs Henry, Hansen and Smith have also spent considerable time analysing their opposition and one example of that was seen last night in the restarts. The All Blacks were excellent in this area and had worked out where to kick it but Australia put very little pressure on New Zealand with their restarts.
It looks from the outside that this All Blacks side are working hard and they just need to continue doing this.
What I like is the fact this team is maturing under the leadership of Richie McCaw and he's being well supported by other senior players like Dan Carter, Mils Muliaina and Conrad Smith. They are accurate, smart and using their brains.
I also like the way Henry is selecting the side. Consistent selections allows the team to develop combinations every week and combinations in these sorts of games are crucial.
The selection of Jimmy Cowan over Piri Weepu for this match raised a few eyebrows but obviously it was for a reason.
The team look fit and hungry, they are maintaining possession well and probably the key thing last night, especially in the first half, was that when the All Blacks got an opportunity they took it, which is something Australia didn't do.
Our discipline was also much better than Australia's. People might say Drew Mitchell shouldn't have been sent off because he didn't seem to do anything for the first yellow card but the referee gave a pretty stern message to both captains that the next infringement would be a yellow card. That just happened to be Mitchell. He still would have got a yellow if he hadn't been sinbinned in the first half and that turned into 14 points.
His sending off effectively killed off the game. But the All Blacks were by far the better side and, if anything, the score flattered the Aussies.
New Zealand are clearly in the box seat to win the Tri Nations with a maximum 15 points from three games. They can even seal it with a win in Christchurch next weekend.
It's hard to see Australia winning three games away from home. But it's what I am seeing in this All Black side that I like they most. Long may it continue.