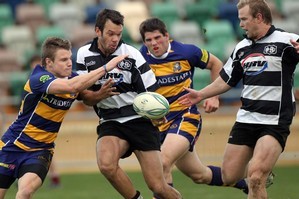 Chris Rattue talks to Aussie league convert Luke Rooney, the new Hawkes Bay rugby fullback, who is no stranger to our sporting fields. The former Australian and State of Origin league wing made his test debut at North Harbour Stadium in 2004, scoring two tries in a draw against the Kiwis. The tall wing, out of the Penrith league stronghold, was supposed to have a big representative future until he switched codes in 2008. Rooney has arrived in Napier after opening his rugby career with Toulon. The 27-year-old is bound for the new Rebels Super 15 franchise in Melbourne.
What brought you to Hawkes Bay?
I needed a bit of game time before the Rebels kicked off and keep learning the game. It is played differently here compared to Europe where there are a lot of rucks and scrums.
You were a dedicated league wing but have become a rugby fullback - what are the major adjustments you have had to make?
I played a few games at first on the wing at Toulon but I've played fullback since and much prefer it.
You get into the game much more from fullback. On the wing you wait for the ball. Getting used to the rucks and cleanouts has been difficult. In league you make a tackle, then a bit of a wrestle, and that's about it.
Did you have any rugby union in your background?
None at all, growing up in Penrith which is a rugby league place.
Who was your childhood hero?
Brad Fittler (Aussie and Penrith rugby league legend). I played with him when he made a comeback for New South Wales which was just amazing. I told him he was my hero but I think he already knew.
Your greatest sporting moment?
Winning the grand final with Penrith in 2003. Heaps of us had played together since we were 13 or 14. My Australian debut at North Harbour was up there. It was rainy - the score was 16-all in a very tough game. Playing alongside blokes like Darren Lockyer was amazing.
It's compulsory to ask a Sonny Bill Williams question - so what about Sonny Bill Williams?
We've both moved on from Toulon but he was carving them up towards the end, just doing all the things that Sonny Bill does.
Melbourne is a tough Aussie Rules nut to crack - what are the Rebels' prospects?
Melbourne is a pretty sporty town and I think they've got some good sponsorships ... hopefully we will get some big crowds.
Reports had you tagged as a prospect for England at next year's rugby World Cup but now you are linked to the Australian Rugby Union through your Melbourne contract ... so what gives?
When I was looking at signing for Worcester - both my parents are English and the question about eligibility was asked. It's far too early for me to start thinking about the Wallabies.