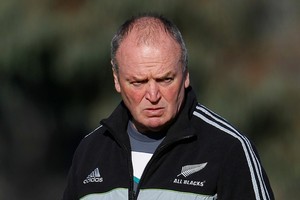 Nothing beats a decent spat to put some juice into the lead-up to a Bledisloe Cup test.
And what a hullabaloo it was over a sheet of paper clutched by Graham Henry at training in Melbourne on Wednesday.
Of course the photographer was out of order snapping a shot of All Black strategic doodlings. There are things you should not do at training. Kind of unwritten protocols.
But instead of laughing it off with a witty bon mot or two, the All Blacks management got into a dreadful lather. They turned po-faced and calls were made from on high to newspapers inquiring over the photo's usage.
Team officials double checked credentials at training the next day. Extra security was called in. A national emergency has nothing on anything that might undermine the great black machine.
The offending photographer was red-carded, but he knew the possible outcomes. A case of living and dying by the lens.
Yet, for all the steam and fury emerging from All Blacks camp, you might have thought something really important had been planted neatly into enemy hands.
Put it this way: if the All Blacks are beaten tonight will it really be put down to that photo?
Don't laugh, because New Zealand does have a history of making excuses on occasions of great moment.
A South African waitress Suzie, who oddly has never been found, leaps to mind from the 1995 World Cup final; so too English referee Wayne Barnes, squarely blamed for the All Blacks losing to France in the quarter-finals three years ago.
Five moves on a sheet of paper. If the revealing of that seriously undermines the All Black selectors' seven years of devising strategies for all situations, then you can forget next year's World Cup.
There was a time when journalists could happily stroll the sidelines at All Blacks training, chew the fat with the manager and medical staff and watch the entire show if they wanted to.
Certainly it was more fun than endless cricket net sessions because there was the occasional punch-up at a ruck and always the chance of two players colliding at great speed when a drill went wrong.
There were also amusing moments. Such as trying in vain to spot a single concerned team mate inquiring of the well-being of one particularly long-serving All Black whenever he went down injured, which was often.
Anyway it's all stuff and nonsense, much like the hellfire that Sanzar have decided to rain down on South Africa's unusual coach Peter de Villiers.
They want to bring him to book over remarks made on an Australian television programme a week ago.
De Villiers hinted mischief was afoot in their two losses to the All Blacks this month, broadly suggesting a conspiracy to help raise interest in next year's big event.
As this is not North Korea, short of libelling someone de Villiers is entitled to say what he thinks. Sanzar claim misconduct. What tosh. De Villiers offers bizarre pearls on a range of subjects. That's his prerogative.
All that aside, tonight's could be a corker of a contest. Australia's win over the spiritless Springboks was far from perfect but offered enough to give them heart.
So will this be a decent gauge re the You Know What next year? Only in as much as it will suggest how both teams are travelling in a general sense.
There are still five more clashes between the two before the World Cup.
Much can, and will, change in that time so best treat it for what it is: another contest, another points-scoring exercise in all senses, but neither camp will, or should, sink into a complete fug of despair if they finish second tonight.