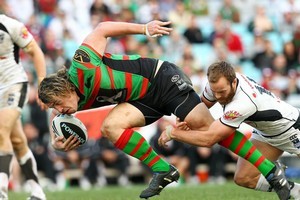 Memo to the Warriors: The Aussies don't rate you. At all.
Doesn't matter whether we're talking former halfbacks who used to play for the club or Miss Universe contestants. They all think you're rubbish.
Well, pretty much all of them. Just check out last week's Big League magazine. Not one of its seven pundits picked you to beat Souths. It was much the same in Sydney's Sunday Telegraph newspaper.
They have a 12-person tipping panel (it seems they do everything BIG in Australia). Only one of them thought you'd win.
It's not exactly scientific, but when you've just won five in a row and just one out of 19 tipsters think you're going win a match against a struggling Souths team that you'd previously beaten 15 times out of 21, it's pretty obvious you guys just don't rate across the Tasman.
Those media types that all picked you to come dead last this season? They haven't changed their minds.
They're probably just thinking they've got their seasons mixed up and you lot will flop next year instead.
Aussies have always thought you guys sucked. And they probably always will.
Performances like last Sunday's don't exactly help.
You guys had plenty going for you in that game but it turned into a bit of a balls-up.
There seems to be a curious psychology at work with you lot. You play great when people least expect it, but for some reason expectation is your kryptonite.
Did you know that some people at the club ask journalists not to write or say too much nice stuff about you when you're going well?
They're worried you can't deal with the hype. After last year - and last week - who can really blame them?
Still, it's hard to see how you're going to win a premiership without anyone noticing, so maybe you had better learn to deal with it.
Here's a thought. If the weight of expectation in this country is getting too much, why not plug into some Aussie media? That should bring you back down to earth.
Aussies might say the odd nice thing about you but, deep down, we all know they don't rate you. They don't respect you.
You guys can win as many games in a row as you like.
Hell, you could probably even win the whole comp and they'll still think it was a fluke.
Those 19 pundits, none of them picked you to beat Penrith and most of them also thought you'd lose to the Storm. And, if it makes you feel better, you can be damn sure they're expecting the Titans to beat you tomorrow.