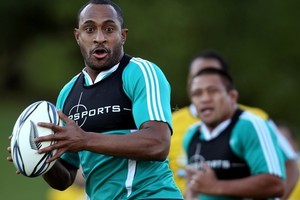 As Joe Rokocoko waits to make his record-breaking appearance against the Wallabies tomorrow he admits to some apprehension.
He played at the same Melbourne stadium in the 2003 World Cup before it underwent a number of sponsor name changes and experienced increasing problems with the surface.
First game there against Italy, Rokocoko scored twice and damaged his hamstring, missing the side's next two matches.
He was the talk of the tournament then, scoring seven tries in five World Cup games, a lethal frisky scoring machine.
Rokocoko is still the talk of the team but in not quite such glowing measures these days.
Many believe he was fortunate to make the squad and that his Super 14 deeds do not measure up against Hosea Gear, Zac Guildford, Rudi Wulf and others.
The selectors chose to differ and tomorrow, after missing the last game with a hamstring strain, Rokocoko will play his 64th test to move ahead of John Kirwan and Jonah Lomu.
"The hamstring and knee are ready to go," the 27-year-old said.
He reckoned he had not felt better at training this year and was in a great frame of mind and wanted to honour the great wings whose record he would eclipse. "JK, Jonah, Goldie [Jeff Wilson] and Dougie [Howlett] were some classy players who have been before me. When I play for this team at 14 or 11 those guys have set the standards before me and you try and carry on the banner pretty much."
One of his jobs tomorrow will be to mark the versatile young Wallaby James O'Connor. That task might be more difficult if the surface cuts up.
Little blokes like Shane Williams and Gio Aplon could be so evasive and nimble on their feet that they were extra hard to mark. O'Connor had some of that deft footwork too while Rokocoko might have some aerial advantage.
O'Connor and the Wallabies showed glimpses last week of how they want to play, backing themselves and having the enthusiasm to have a go.
Little guys like that could be so elusive and he would rather mark any big man except Lomu.
This season had been fun. There was more running, more counter-attack and the All Black back three of either Dagg, Mils Muliaina, Cory Jane and himself had been amped about the chances they had received.
"I'm sure most back three's eyes light up. It is our chance to get into the game but I guess it might be quite different against the Wallabies because they will not kick so much to us.
"It has been much better than waiting in the cold for kicks. We are involved a lot more and the trainers have looked at that and changed our training, our fitness, and that might be the difference this weekend."