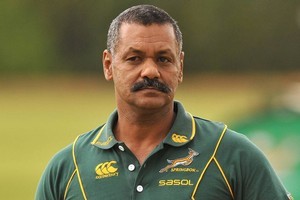 Misplaced positive discrimination will hurt South Africa's gifted black players more than anyone else.
That's a horrible irony of Peter de Villiers' increasingly disastrous time in charge of the world champions.
The coaching maestro Robbie Deans continued his promising reconstruction of the Wallabies in Brisbane, but the home side found it relatively easy to wipe out an incoherent Springbok side that is tactically inept and only finds an effective fighting spirit in sporadic bursts.
Saturday night's clash in Brisbane was a coaching mismatch more than anything else, as were the earlier tests in Auckland and Wellington.
There is no disgrace in losing away games in the Tri-Nations, but the manner of the South African defeats reveals they are wasting their vast playing resources. A failure to eliminate poor discipline also indicates a leadership problem.
De Villiers is a faux test coach, a man who got his lines from a joke shop with a free Groucho moustache thrown in.
South Africa may feel the rest of the world is unduly harsh on de Villiers, but the rest of the rugby community can rightly feel miffed that the game's leading team doesn't take the job of head coach seriously enough.
Having been given a leg up to the very top, de Villiers should be made to earn his stripes, increase prowess and prove his ability in the Super 15 while a competent man takes charge of the world champions.
The South African rugby administration were open about de Villiers' appointment after the 2007 World Cup, saying it had much to do with transformation (from out of the apartheid era) and was not based on his rugby credentials alone.
They could hardly say anything else, though, since de Villiers had only ever been head coach of junior South African teams, along with a couple of nondescript seasons in the Currie Cup.
A difficult decision was made in difficult circumstances but does not have to be set in stone, and de Villiers has dishonoured the position with his ridiculous verbal shenanigans.
International team sport will expose such risky manoeuvring eventually. Head coaches get paid the big bucks because they are actually important - just look at Argentina's tactical disaster under an impotent Diego Maradona at the World Cup.
What is happening to the Springboks was inevitable under de Villiers, although the cracks have appeared a bit quicker than many of us expected.
Men far more qualified than de Villiers have fallen on hard times with apparently good teams, but those who have earned their stripes through the grades - such as Graham Henry - can fight their way clear.
Sports teams can function superbly when dominated and effectively run by legendary players, but only for a short time. They will self-destruct when age and fading form emerge and the old hands refuse to relinquish power or embrace new trends. Nothing exemplifies this more than the placing of the cumbersome Jean de Villiers on the wing.
Under the new rules, which encourage ball in hand over kicking, the new breed in South Africa must be given their chance to take over, players such as Gio Aplon and Juan de Jongh.
But these gifted players, many of them black, will land in the middle of a dysfunctional team, a side run by old players, tight forwards at that, who will fall back on conservative ways.
South African rugby is now finding out the double trouble presented by a political coaching appointment. The successful candidate is unlikely to be good enough for the job and the administration has trouble sacking the bloke when things turn pear-shaped.
The Springboks have world-class players to burn, but they were tied in knots by the Australian shoestring. Just imagine what Henry or Deans might achieve with South Africa's player pool.
The genius of Deans was there to see in Brisbane. He is building a new Australian rugby, and still coming up with just enough results to keep the vultures at bay.
The Wallabies fielded a couple of rookie puddings in their front row and still the Boks got their just deserts.
Deans has injected skill all over his backline. The immensely strong Will Genia, a Deans protege, is the best halfback in world rugby under the new rules because he busts through holes around the fringes that others don't see or have the power to create.
The skill factor has been upped by the inclusion of Quade Cooper, who has the most magical hands in rugby, although he is still no Dan Carter. Wing James O'Connor, with two of the fastest feet ever seen on a rugby field, can whirl his way out of almost any situation.
But the Wallabies are down on overall power and tight-five class. Henry's All Blacks will win well in Melbourne, especially with Cooper suspended.
* Shame on the South African team management for strong-arming an apology out of former Wallaby Brendan Cannon, for calling de Villiers a clown.
The Springboks threatened to withdraw Fox Sport access to their team. South Africa, which is still trying to recover from years under an evil regime, should value the importance of free speech. And Fox should have backed Cannon.
Weekend Winner:
The All Blacks, now that Quade Cooper has been rubbed out.
What to Watch:
The Bledisloe Battle of course.