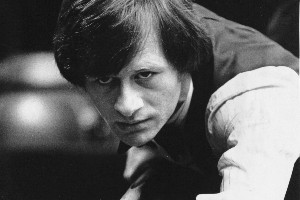 Snooker will always owe a substantial debt to Alex "Hurricane" Higgins, the brilliant, self-destructive Irishman who was found dead at the weekend.
When Higgins grabbed the game by the collar, it was populated by middle-aged men in bow ties playing a no-frills, cautious game at a slow, contemplative pace.
It was a grey game, commentated on television by a man with a moniker which fitted the time and the mood: "Whispering" Ted Lowe.
Among his more famous lines was "... for those of you who are watching in black and white, the pink is next to to the green".
Then along came the renegade from Belfast and the game received a ferocious kick in the backside.
Higgins wasn't universally admired by the fuddy-duddies. He discarded the until-then obligatory tie, smoked four packs of Marlboro a day - he died of throat cancer - drank long and hard and played the game like a gunfighter.
The contrast in style with his rivals was stark. Higgins was rapid-fire. He charged around the table making rapid calculations. Nipping out to put the kettle on as Higgins strode to the table was a bad move.
There was no messing about and when on song, he was utterly compelling. He was not known as the "People's Champion" for nothing.
He won the world title twice, in 1972 and 1982. His heart was invariably on his sleeve and he was loved for it by his adoring fans.
Higgins carved his way through an estimated £4 million ($8.5 million) fortune. He cried publicly, he argued with officials, boozed and fought - both drug addictions and with his fists - head butting one official who had the temerity to ask him to hurry up during a drug test.
His home life was chaotic, but his presence in the game was akin to a fresh breeze whistling through a room. Cobwebs had no chance.
Higgins was dazzling in a seat-of-the-pants style.
Cockney lefthander Jimmy "Whirlwind" White, perhaps the best player never to win the world title, and three-time world champion Ronnie "The Rocket" O'Sullivan - the first player to have been caught giving the "finger" to a ball which didn't stop where he intended - are the closest imitators in terms of pizzazz and the excitement they've brought to the table.
However Higgins, who was 61, was an original. His demise had an inevitability once the focal point of his life had gone.
By the end, he had no teeth, he was eating baby food, he weighed about 40kg, was living in a squalid flat and was understood to have been dead several days before his body was discovered.
In his prime he was box office. People who had not the slightest interest in snooker, knew who the "Hurricane" was.
Television channels were changed when he was on.
Six-time world champion Steve Davis called him "an inspiration to my generation".
Added another former world champion Dennis Taylor: "I don't think you'll ever, ever see another player in the game like Alex Higgins."
Put a ring around that.