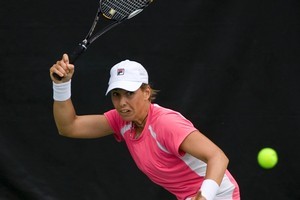 New Zealand tennis great Brett Steven thinks Marina Erakovic should consider ditching the doubles as she plots a way back to the top of the women's game after a frustrating bout of injuries.
Erakovic has had consistent success in doubles and is set to contest her fifth career WTA doubles final today at the Slovenia Open. A win would see the 22-year-old move inside the top 100 - in stark contrast to her lowly 363 in singles.
However Steven doubts doubles is the way forward for the Kiwi favourite.
"She has got to be careful. Her doubles ranking is considerably higher and sometimes players make a choice to focus on what makes them the money. If that is doubles, then the singles tends to fall away a little bit."
Steven, who banked $3.3 million and reached as high as No 32 in the world, suggests Erakovic needs a singles focus.
"You don't want to be a doubles specialist in the women's game.
"There really isn't a good living to be made in doubles, you are only just scraping an existence and providing a lifestyle. She wants to give singles her best shot and walk away when she is retired saying, 'I gave singles a great shot."'
The added conundrum for Erakovic is that progress in doubles can actually preclude her singles participation.
"If she is missing out on playing some qualifying events because she is playing in the latter rounds of the doubles the previous week, it starts to snowball," Steven says. "She really has enough potential in singles and she will always be able to get her doubles back. The singles has got to be the area that she concentrates on. She is far too young to be [a doubles specialist]."
Former New Zealand No 1 Belinda Cordwell takes some issue with that view. The 1989 Australian Open semifinalist says it is all about spending time on court, in whatever form of the game.
"Time on court playing matches is fundamental and you can't replicate that. If Marina can build more confidence by playing doubles and winning then that will eventually impact [positively] on her singles career. Marina has always struck me as intent on being the best player she can be in the singles game and not just doubles. It may be in the future that Erakovic focuses on singles and puts doubles on the backburner but at the moment time on court is paramount."
Erakovic, for so long New Zealand's flag bearer on the international tennis circuit, appears to be reaching a crossroads in her career.
She was ranked as high as No49 in the world just two years ago, boasted victories over top 50 players and has gone beyond the first round at three of the four Grand Slam events.
That was pre-injury. She enjoyed some recent success on the grass in June at Birmingham beating Melinda Czink (66) and Jill Craybas (107) but before that had not beaten a top 100 player since the 2009 Australian Open. Off her favoured grass surface, which has by far the shortest window of any on the WTA tour, Erakovic's best win this season came against the world No 433 Wang Qiang in the Gifu challenger in April.
After her first-round loss this week to a Russian qualifier at the Slovenia Open, Erakovic has only three more opportunities to enter tournaments using her injury-protected ranking of 82. Essentially a parachute device granted to players who suffer long-term injuries, the mechanism is designed by the WTA to avert a free fall in the rankings. Erakovic has failed to capitalise, progressing beyond the first round just once on the five occasions she has used her protected ranking.
Steven can relate to Eravokic's predicament. After being happily ensconced in the top 75 for a number of years, he saw his ranking plummet in 1996 when he missed six months of play through injury.
"The challenge is more emotional and you just have to accept where you are at. You have to park your ego from where you once were," he says.
Steven is optimistic Erakovic has got what it takes, especially given her renowned fighting spirit.
Erakovic has a 10-11 win-loss record in singles so far in 2010; and 14-8 in doubles. She cannot use her protected ranking to enter the US Open and her current ranking would not meet the qualifying threshold. She is expected to use her protected ranking to enter two 'international' level tournaments (US$220,000 total prizemoney) in Europe and one on the Asian swing in the next few months.