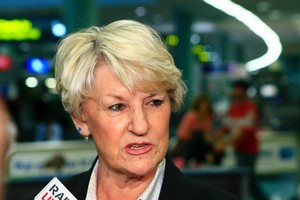 Controversial coach Norma Plummer thinks it is inevitable Australians will coach one or more New Zealand franchises.
New Zealand sources disagree - perhaps predictably - but Plummer's support for the idea of Australians coaching in the ANZ Championship in this country stems from her views as to why a star-studded Northern Mystics side again failed to fire this season after initial promise.
"In the big wide world, you have seen it in other sports, and you can only bury your head in the sand for so long," she says.
"I think that is what the [ANZ Championship] is all about - going forward; taking [the game] to a new level."
Asked if the underperforming Mystics could benefit from an Australian influence on their coaching bench, Plummer was unequivocal.
"I think that would be a damn good challenge," she said of the current coaching vacancy.
"Down the track, it will happen. Someone will get a gig over there."
The Mystics recruited aggressively in the off season but finished only sixth, with a 7-6 win loss record.
"They have a fantastic line-up [and] should have been in the top four," says Plummer.
"We all looked at the names on paper at the start of the season and thought, 'Wow, this is going to be tough'. But they lost it themselves.
"They weren't in control of what they were doing and there were balls going everywhere in the forward end. They waste a lot of ball on attack; they are not reading each other. A lot of players there are names in their own right but you have to forget the names and be part of that whole group together.
"The connection on court is the problem. Once they get that connection, that is a damn good team. They don't connect and that is pretty obvious."
Plummer says the attacking pair of Cathrine Latu and Maria Tutaia were statistically one of the best combinations in the competition but suffered from lack of quality service.
But what would an Australian bring to the table?
"It is a coaching style - [you] have to use different paces on court and not everything is flat out and stop. It is [part of] what we call the Australian way. It's the way we have been brought up to play and it has been successful for us. You don't win nine out of 12 world series if something is not working."
Plummer also said perennial cellar dwellers the Pulse adopted a man-to-man defence this season, rather than the traditional zonal based-New Zealand game and "did quite well with it".
New Zealand franchises are not performing as well as their Australian counterparts in the transtasman competition.
The five Australian franchises combined for 37 victories in 2008 and 2009 (New Zealand sides managed 27 and 28 in each of those seasons respectively). In 2010, the gap grew to 39-26. The Pulse have won just twice in three seasons, while the Canterbury Tactix, admittedly beset by injury problems, lost 12 of 13 games in 2010.
The Mystics have yet to make the playoffs. Perhaps most damningly, the Mystics, Tactix, Pulse and Southern Steel are still waiting for their first victory on Australian soil.
While Netball New Zealand high performance manager Tracey Fear concedes players could benefit from a new approach, the Kiwi door seems firmly closed when it comes to Australian coaches taking over.
Fear says there has already been a degree of "cross-pollination" of traditional styles after three seasons.
But the national body specifies that any prospective ANZ Championship coach must be a permanent resident. Fear is adamant that will remain so for the foreseeable future.
"We would definitely be keen to see coaches in our pathway given the opportunities to coach at the highest level they are capable of," she said.
Mystics CEO Mark Cameron struggles to see the value in importing coaching talent and dismisses talk they target the likes of ex-Australian captain and Queensland Firebirds coach Vicki Wilson.
"It possibly could bring a different mix but it is not where we want to head. I'm not sure that the Australian coaching model is any better," he says.
Some would question that, given the Australian dominance of the first three seasons, allied with their added handicap that they don't enjoy the bonus of two games a season against the weaker New Zealand teams.
Cameron feels that, unlike other sports, the depth of coaching talent is not out there: "In five or 10 years, you might see the real supercoaches emerge," he said, citing the example of Wayne Bennett in rugby league.
"In the future a supercoach will become quite valuable but they aren't there [currently]."
Cameron says their priority is continuity and he is comfortable with the focus on coaches from the local region. The Mystics expect to announce their new coach in the next two to four weeks, though it is understood 2010 assistant coach Debbie Fuller has been rubber-stamped for the role.